Although we're left to wonder "What could have been?" in the spring, there were plenty of tremendous teams that graced the fields, courts and mats in Clark and Floyd counties during the fall and winter.
With that in mind, here is a quick look at 10 of the top contenders for NTSPY Team of the Year. The winner will be announced during the seventh annual News and Tribune Sports Performance Yearly (NTSPY) Awards, which will debut online at 6 p.m. Tuesday.
CHARLESTOWN GIRLS' CROSS COUNTRY
Last year the Pirates didn't have enough runners to field a full team at the sectional.
This year, Charlestown — with only the minimum five runners — captured the program's first-ever sectional title. The Pirates placed all of them in the top 16, led by senior Ashley Wight's fourth-place finish, en route to 42 points — 25 ahead of runner-up Jennings County. It was the fifth title of the season for Charlestown, which went on to finish third at the regional and 17th at the semistate.
FLOYD CENTRAL BOYS' SWIMMING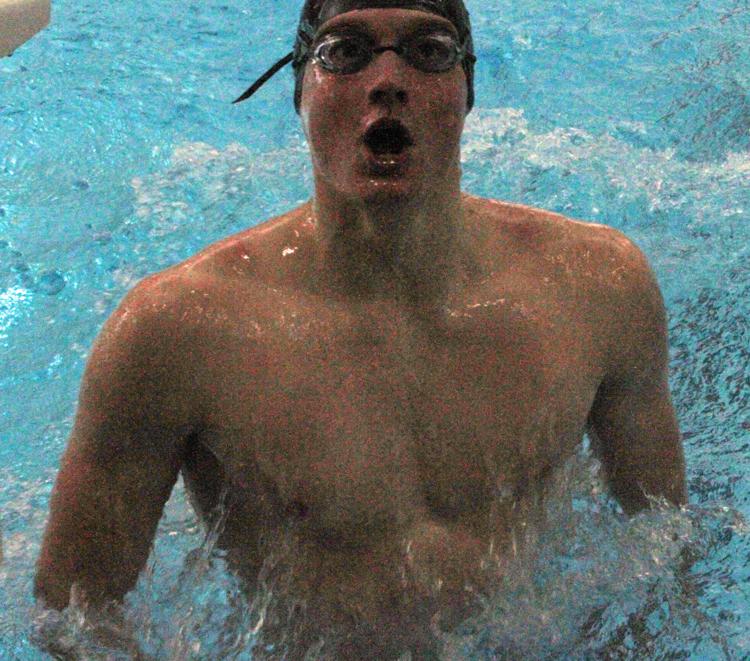 Led by a strong senior class, the Highlanders won their fifth straight sectional title in very impressive fashion. They won nine of the 12 events on the way to 549 points — 232.5 more than runner-up Madison.
The following week at the IHSAA State Finals, Floyd finished in a tie for 19th led by senior Dalton Lawver, who finished seventh in the 100-yard backstroke and 14th in the 100 butterfly.
FLOYD CENTRAL FOOTBALL
The Highlanders went 5-5 in James Bragg's first season as the head coach. In his second, Floyd lost its season-opener to Kentucky's reigning Class 6A state champion (Louisville Male) before reeling off victories in nine of its next 10 games en route to capturing the program's first sectional title in 10 years. Floyd, which finished 9-3, was led by its upperclassmen, including junior running back Wenkers Wright, who enjoyed a breakout 2,000-yard season.
FLOYD CENTRAL GIRLS' CROSS COUNTRY
Led by a strong group of upperclassmen, and buoyed by some talented underclassmen, the Highlanders had an impressive season. They pitched a perfect game at the Crawford County Sectional, sweeping the top six places — led by senior Sydney Liddle — on their way to a 58-point victory and the program's eighth straight title.
A week later at the Crawford County Regional, Floyd took five of the top eight places — again led by the victorious Liddle — en route to a 45-point triumph.
The Highlanders went on to take third, behind Liddle's runner-up finish, at the Brown County Semistate before finishing 19th at the state meet.
FLOYD CENTRAL WRESTLING
The Highlanders were 13th in Indianamat.com's preseason rankings. They went on to do better.
Led most of the season by its "Three Amigos" of senior Jonathan Kervin, junior Gavinn Alstott and sophomore J Conway, Floyd captured its fourth sectional title in five years — by a mere 1 1/2 points — before finishing third at the regional and fifth at the semistate. At the IHSAA State Finals, Conway placed sixth in the 138-pound weight class while Kervin rallied to beat East Central's Bryer Hall in the 152-pound final to become the program's fourth state champion.
JEFFERSONVILLE WRESTLING
Led by a solid senior class, the Red Devils edged Floyd for second place in the Hoosier Hills Conference meet before capturing their third straight sectional title. While they had four individual champions, they also featured a top-four finisher in all 14 weight classes on their way to a 45.5-point victory.
The following Saturday, again led by four champs — Adonis Boyd, Cody Matherly, Ethan Rogers and Matt Munoz — Jeff edged Tell City by one point for second place at the regional.
The Devils tied for 26th at the semistate.
PROVIDENCE VOLLEYBALL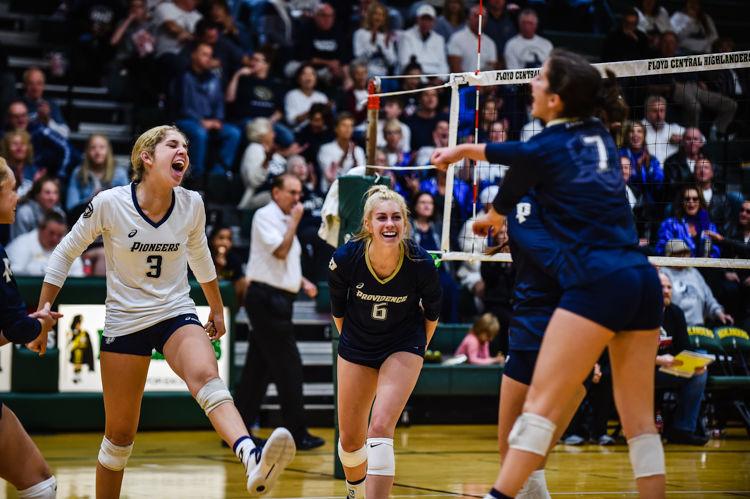 The Pioneers began the season ranked No. 2 in Class 4A and with an experienced team. They won their first 19 matches, including a 3-1 win over then-nationally-ranked Mercy Academy in their second contest, before being swept by top-ranked New Castle, which would go on to capture the state title. They followed that up with 10 more consecutive victories before falling 3-2 to Center Grove in a hard-fought regional final.
ROCK CREEK VOLLEYBALL
The Lions continued to be a Class A heavyweight, winning 25 matches — their third straight season with at least that many victories — as they captured their third consecutive sectional title. Creek won its first eight matches and 16 of its first 17 before a difficult stretch of late-season matches, that included a 3-2 loss to Springs Valley in the regional semifinals. Maybe the most impressive thing about the Lions' season was their 12-0 record in road matches.
SILVER CREEK BOYS' BASKETBALL
The reigning Class 3A state champs had a target on their collective back the entire season and, save a 32-point loss to 4A Lawrence Central in the championship game of the Hall of Fame Classic, they were able to go high top-to-high top with every foe. The Dragons beat five eventual sectional champions (Fort Wayne Blackhawk, Heritage Hills, Providence twice, Brownstown Central and Floyd Central) during the regular season and had another, 4A No. 1 Bloomington South, on the ropes before Mr. Basketball Anthony Leal hit a game-winning 3-pointer at the buzzer. Creek didn't lose again after that, rolling to its third straight sectional title and sixth in seven seasons before the state tournament was ended prematurely by the coronavirus pandemic.
SILVER CREEK GIRLS' BASKETBALL
It was a benchmark campaign for the Dragons who, boosted by some key returnees and a pair of transfers, set a single-season school record for victories. They won 10 of their first 11 games, including victories over preseason 4A Top 10 Jeffersonville and Kentucky's defending state champion (Ryle), before losing at Bedford North Lawrence. They only team to beat Creek after that was eventual 3A state runner-up Salem. The Lions won by four points in Sellersburg in January, then rallied for a 54-52 victory in the Charlestown Sectional final.