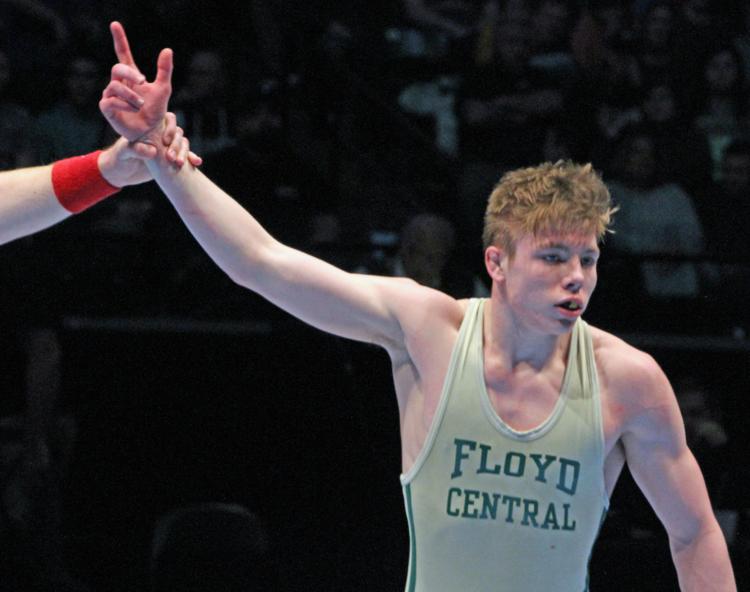 The Floyd Central triumvirate of Jonathan Kervin, Gavinn Alstott and J Conway are nicknamed the "Three Amigos."
This past season, the senior, junior and sophomore were excelente, combining to win three sectionals, three regionals and a state title while amassing a combined 125-8 record. The talented trio headline the News and Tribune's 2019-20 All-Area teams and are the finalists for Wrestler of the Year.
The winner will be announced during the NTSPY (News and Tribune Sports Performance Yearly) Awards, which will take place online June 16.
GAVINN ALSTOTT, FLOYD CENTRAL
After placing fourth in the state as a 113-pound sophomore, Alstott appeared destined for a third straight trip to the IHSAA State Finals. Grappling at 126 pounds, he only lost one match during the regular season (to an out-of-state foe) and was ranked among the best in the state in his weight class. He rolled to sectional and regional titles before losing to second-ranked Ben Dalton of Monrovia 3-1 in the semistate quarterfinals (a.k.a. "the ticket round") to finish his season with a 38-2 record.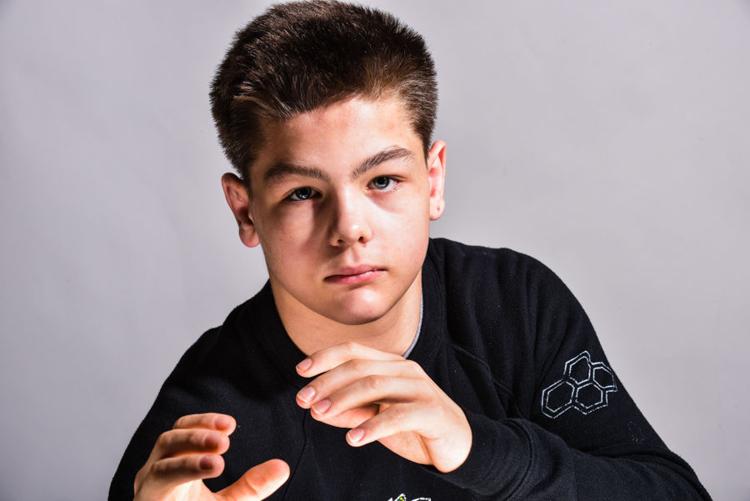 "It went pretty good, but not what I wanted in the end," said Alstott, who also lost to Dalton in the third-place match at state last year. "In the beginning of the season I beat the guy who ended up winning state. To lose 3-1 in the ticket round, it was pretty disappointing, but I'm just trying to use that match to grow and get better for next season."
"After I lost I was really bummed out, but my coach told me, 'You can't let this define you. You have to grow as a person and grow as a wrestler too.' It taught me win, or lose, you've got to leave it all out there."
In spite of his semistate setback, Alstott attended the state meet and watched his teammate Jonathan Kervin win the state title. 
"Jonathan winning state was really big for our program," he said. 
Alstott hopes to follow in his footsteps.
"My goal is to win state next year," he said. "I think that's been the goal since I started wrestling. I think I have what it takes. I think there's just a few things that have to fall into place and I think it can happen."
After next year, Alstott hopes to continue his wrestling career in college.
J CONWAY, FLOYD CENTRAL 
Conway followed up a fine freshman season, he went 23-4 and advanced to the IHSAA State Finals in the 126-pound weight class, with a sensational sophomore campaign.
During the regular season he lost just one match, by a single point. He steamrolled through the first two rounds of the postseason at 138, recording four pins — including a 55-second one in the regional final. At the semistate, he won his first two matches by pins and his third by a majority decision before losing 7-5 in sudden-death overtime in the final.
The next week at state Conway, slightly slowed by an ankle injury he suffered in the semistate final, won his first and third matches while dropping his second and fourth to finish sixth overall and close out the season 43-4 while setting a single-season school-record in takedowns.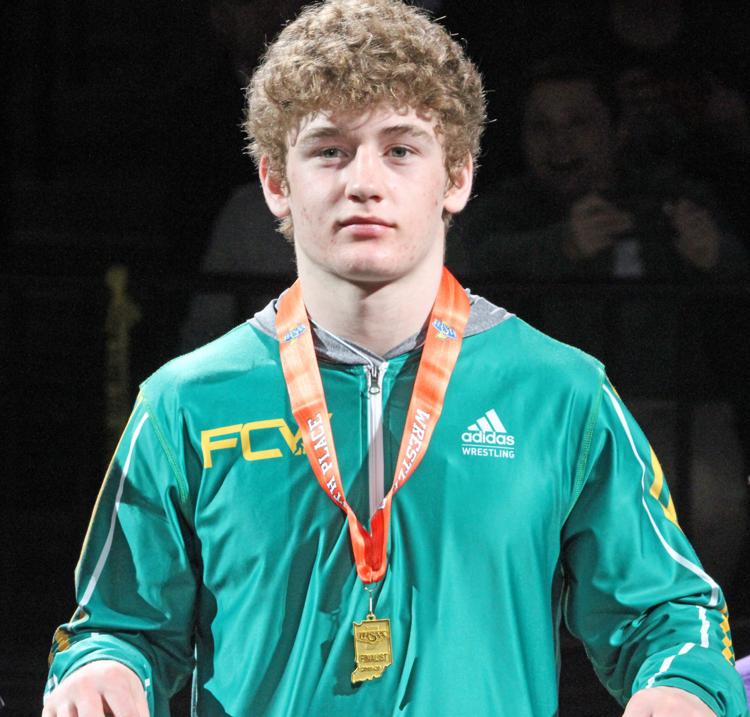 "J's right there," Floyd Central coach Brandon Sisson said at the state meet. "He had his eyes set to be a state champion this year too, I know that was his goal. He had a real tight match at Mater Dei with the guy [Blake Boarman] that ended up winning it. He battled through. I told him, 'Sometimes the steps take a little longer than you want.' That can hurt, but he does everything right. He eats right, he works out right, he drills right, he lives the right lifestyle. Sometimes the progression might be slower than you want it to be, but if you're doing the right things it's going to work.'
"I would imagine you'll see him here again next year." 
JONATHAN KERVIN, FLOYD CENTRAL  
After finishing sixth (at 145 pounds) at the IHSAA State Finals as a junior, the reigning Wrestler of the Year capped off his career in memorable fashion, atop the medal stand at Bankers Life Fieldhouse after winning the 152-pound weight class.
"It went about as good as it could go. I wish I would've gone undefeated, that was one of the goals, but I'll take the state title," said Kervin, who went 44-2 his senior year.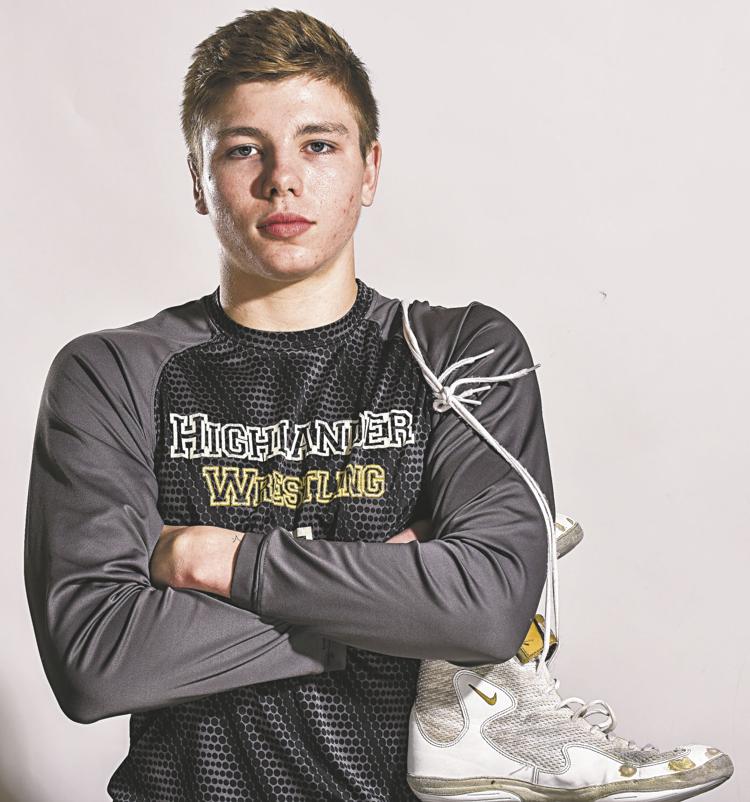 Kervin rolled through the regular season, losing only one match. He was even better in the postseason. He ran roughshod to sectional and regional titles, recording five pins in five matches. At the semistate, he lost by one point (12-11) in the semifinals, before taking third.
The next week, at state, Kervin won his first match by technical fall before beating top-ranked, and previously-unbeaten, Bricelyn Coleman of Warren Central 9-6 in the quarterfinals. After that, Kervin recorded a majority decision in the semifinals before outlasting East Central's Bryer Hall 9-7 in a thrilling final.
"That's what I'd trained for," Kervin said. "I felt really calm [going into the match] and my preparation was there. I just went out there and wrestled my hardest, and it paid off."
In winning the program's fifth state title, Kervin joined his uncle, Floyd assistant coach Cooper Samuels, a two-time champion (2007, '08) as well as Shaun Garing (1987) and Nathan Peterson (2000).
"It was a little surreal, but it was a goal I had for a long time," he said.
Another goal was wrestling at the collegiate level. Kervin recently announced that he will continue his career at Indiana University, following in the footsteps of Samuels and Floyd head coach Brandon Sisson.
"Coach Angel [Escobedo] is a great coach and I know I'll be taken care of up there," he said. "Plus the Big Ten, it's the best conference in the country."