Last month a pair of local rifle shooters helped the United States to victory in the Canadian National F-Class team championship.
F-Class is a fast growing sport originally promoted by Canadian shooter, George Farquharson, thus the name, in the 1990s. Also known as, "belly bench rest," the sport was intended to attract long-range shooting enthusiasts wanting to use scopes and rests, and perhaps looking for an alternative from the more traditional high-powered competitions using slings, iron sights and shooting jackets.
F-Class competitions shoot from the prone position (i.e. belly) at distances ranging from 300 to 1,000 yards. There are two divisions within F-Class: Open and F-T/R. F-Open allows a shooter to use any firearm cartridge up to a .35 caliber. F-T/R is limited to calibers .223 and .308. Neither class may use muzzle brakes or suppressors.
Dwayne Draggoo of Jeffersonville and Cody Richardson of Georgetown joined up with Pete Ricci of Arizona, Bob Bock of New York and Wade Rankin of Ohio to compete as Team USA in a 3-day event, known as the F-Open LUM team match, in Nepean, Ontario. This particular aggregate consisted of each competitor taking 15 shots from 800, 900 and 1,000 yards.
To help put this in perspective, considering football season is upon us, we are talking about hitting a 5-inch bullseye from 10 football fields away! For comparison, see the picture of a 1,000-yard target from one of Cody's competitions. Using the pen as a dimension reference, you can quickly appreciate the ability to shoot with such accuracy.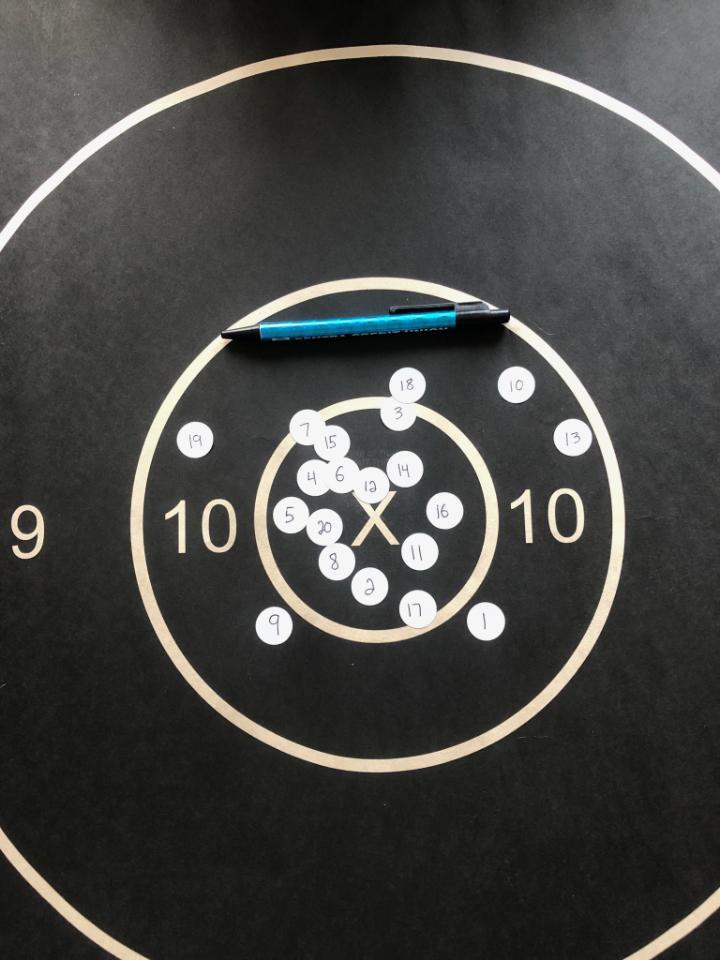 Dwayne, the coach of Team USA, is an Army veteran who has been shooting F-class competitively for six years. He says his love for long-range shooting began while spending time at the range simply making efforts to become a more ethical hunter. Dwayne credits his friend, George Eberhardt, for encouraging him to shoot competitively. They met at a local firing range, Southern Indiana Rifle and Pistol Club (SIRPC) in Borden. He recalls George saying, "You know, they do have these things called competitions." The rest is history, but it almost wasn't.
"I noticed just after starting shooting competitions my eyesight was deteriorating rapidly," Dwayne recalled. "This turned out to be early-onset cataracts from brain tumors and the related treatments. So, about six years ago I started to go through quite a few eye surgeries. This started to play havoc with shooting open sights. I would see two or three sights and/or targets. You really can adjust for this. It is fine until the light changes and one of them disappears.
"I really started to get a little down and stopped going to as many competitions. But a new program was introduced at our club and I tried it — F-Class. Hey [using] a scope, instead of open sights, I can see again!"
Dwayne's passion and drive to be the best has grown to such a level that he is now involved in the building of his own rifles. His work is paying dividends as his individual performance during competition in Canada earned him third overall, in addition to his team championship title. Dwayne has been no stranger to success as he earned a ranking of 20th in the world in 2017 after competing in the World Championships.
Cody, on the other hand, has been shooting competitively off and on for 10 years. He actually started shooting smaller calibers competitively with his grandfather during his younger years, but took a brief break while focusing on his college baseball career at Spalding University. He has returned full force with a liking for F-Class and has been shooting it competitively for six years. Cody's individual performance while in Canada placed him seventh overall. Cody, 27, is currently a detective for the Jeffersonville Police Department and a sniper on the SWAT team.
"I love this sport because it's always a challenge, and no day is like the last," he said. "It forces you to be in charge of the things you can control, but manage the uncontrollable to the best of your ability."
In addition to Dwayne and Cody residing here in Southern Indiana, they also share other similarities and philosophies concerning the sport. Both are members of Team Indiana F-Class, compete in the Open division and shoot a .284 Shehane. To those familiar with hunting cartridges, the .284 is the same bullet diameter as a 7mm.
Each shooter calls the SIRPC their home range. Although considered mid-range, because of its 500-yard limitation, both explained the wind conditions at this range are like no other and responsible for their success nationally and internationally. In fact, many ranked shooters travel from afar to this range to sharpen their skills and take advantage of these conditions while preparing for 1,000-yard competitions. As one can imagine, the slightest environmental conditions can play a huge role in the accuracy of a 180-grain bullet covering a distance of over a half-mile.
Both agree that matches are "won on the reloading bench," referring to their time spent measuring loads and preparing each cartridge with precision. These sharpshooters spend three to four times more reloading than they do on the range, which includes at least one day a week practicing and two or three matches per month.
Although each has a passion for competitive F-Class, their enjoyment comes from growing the sport and simply getting others involved. Their ideal contribution is to teach more responsibility to shooters and continue promoting gun safety. Dwayne and Cody shared their concern that even though F-Class is a growing sport, the younger generation of shooters are lacking in number. They encourage readers to visit the range website at www.sirapc.com and look at the schedule of matches. You will also find information of F-Class sessions taught by Dwayne and Cody beginning after the first of the year. They welcome you to bring out your rifle to test your skills by entering a match or attending as a spectator.
For the remainder of 2019, Dwayne will finish out shooting competitive matches at SIRPC while Cody prepares for the U.S. Nationals in Raton, N.M. Sept. 19-22.
As always, introduce our youth to the outdoors!