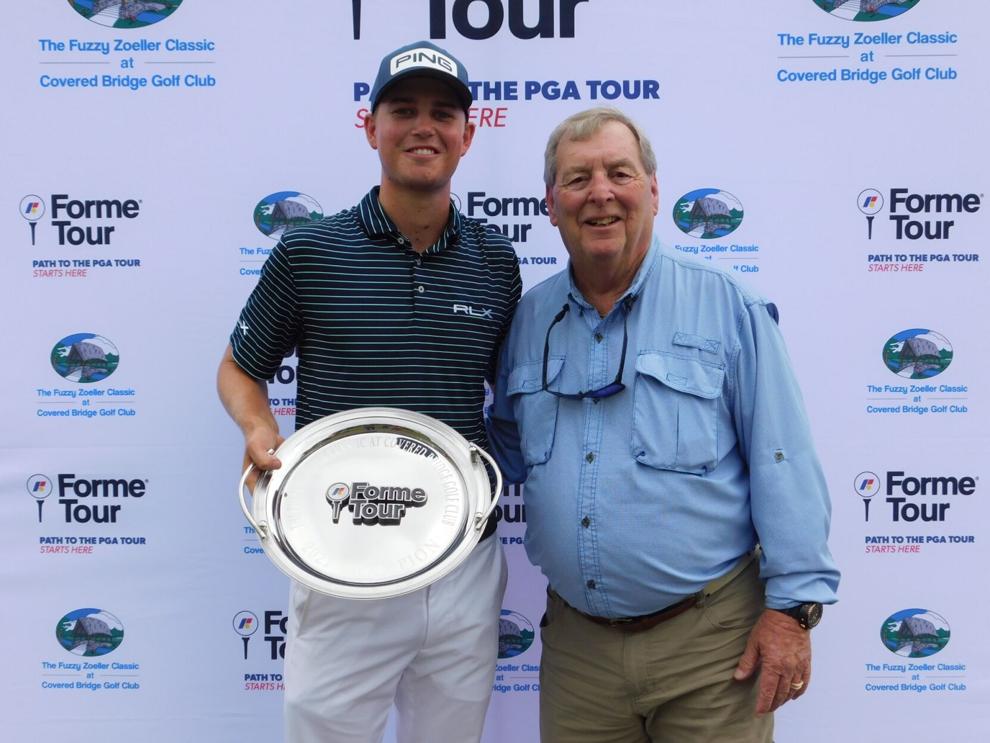 SELLERSBURG — It was only fittingly that on a record-setting week at Covered Bridge Golf Club, Trevor Werbylo recorded his first professional victory.
The 23-year-old University of Arizona graduate fired a final-round 4-over-par 67 Friday to hold off A.J. Crouch and win the Fuzzy Zoeller Classic at Covered Bridge, a Forme Tour event held at the Sellersburg course.
Werbylo finished the four-day tourney at 26-under, one shot ahead of Crouch.
"I'm obviously super-excited and happy to have won. It got a little stressful on the back nine," said Werbylo, who picked up $20,000 for the victory. "I hit a few bad shots and made a couple of bogeys, but a win's a win, so to get the win is beyond exciting."
Werbylo held a four-shot lead heading into the final round and increased that advantage to five strokes following a four-birdie front nine. Werbylo added another birdie on the par-4 13th.
In the meantime Crouch, who was playing one group ahead of Werbylo, was working his way up the leaderboard. Crouch, who began the day six shots behind Werbylo, shot a 30 on the front nine thanks to four birdies and an eagle. He added birdies on holes 11, 12 and 15.
"I came out and knew I was going to have to go low to contend," Crouch said. "I thought I had to shoot 10-under to win. That was my number. I tried to give myself as many chances as I could because I'm putting really well."
Werbylo, meanwhile, bogeyed Nos. 14 and 16 to drop into a tie with Crouch.
Werbylo bounced back to birdie No. 17, while Crouch bogeyed it, resulting in a two-shot swing. Crouch responded by birdieing the final hole, to finish his 9-under round of 62, but Werbylo parred it to secure the one-shot win.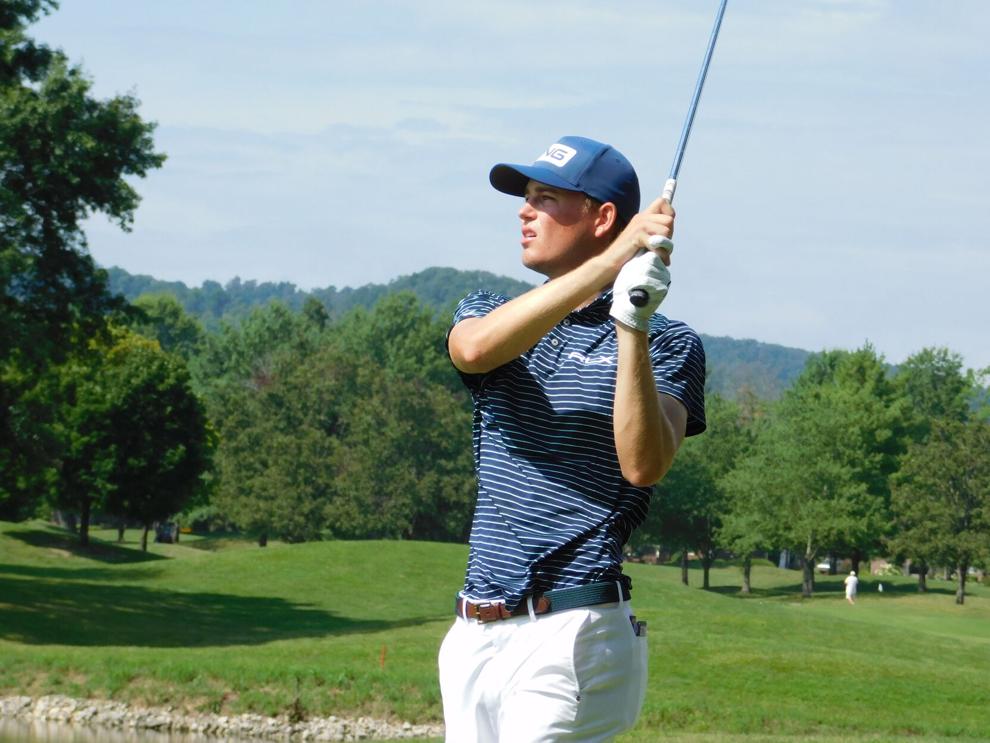 "I didn't really look at the scoreboard all day until after I hit my tee shot on 18. I knew what the guys in my group were doing. I knew I had a decent lead over them, but I didn't know what anybody else was doing," said Werbylo, who moved atop the Forme Tour points standings with the victory. "When I checked on 18, I saw that all I needed was a par. It was a little more stressful than I would have liked it to be."
The triumph was made even sweeter by the fact that Werbylo's father, Roger, caddied for him all week.
"It's awesome to have him on the bag, and he really enjoys it. It's great that he's able to travel with me and be able to be on the bag and watch me play golf," the younger Werbylo said.
Kyler Dunkle and Ian Holt finished tied for third at 21-under while Andrew Yun and Matt McCarty tied for fifth at 20-under.
The round of the day, however, belonged to Dalton Ward. The 30-year-old fired a course-record — and Forme Tour-record — 59. That eclipsed the previous Covered Bridge record of 61, which Cooper Musselman shot Tuesday and Holt carded Thursday.
"I really didn't do anything special. I made my putts, but I didn't make all my putts," said Ward, whose round included eight birdies and two eagles and was capped off with a handshake from the tournament namesake.
The week, however, belonged to Werbylo, who leads Turk Pettit by 354 in the points standings.
"I'm happy. That's where you want to be at the end of the year. Obviously, top-five is the goal, but I think there's a little extra incentive to finish No. 1. There are some extra benefits to that, so, hopefully, I can keep playing well and stay in that No. 1 spot," said Werbylo, who also set a new low 72-hole scoring record for the Forme Tour with his 26-under-par.
.
FUZZY ZOELLER CLASSIC AT COVERED BRIDGE
Friday's final round at Covered Bridge GC, Sellersburg; par-71
1. Trevor Werbylo -26 63-65-63-67—258
2. A.J. Crouch -25 68-65-64-62—259
3. Kyler Dunkle -21 67-67-65-64—263
3. Ian Holt -21 69-65-61-68—263
5. Andrew Yun -20 63-67-69-65—264
5. Matt McCarty -20 65-67-66-66—264
7. David Pastore -19 68-68-66-63—265
7. Dalton Ward -19 68-69-69-59—265
9. Eric Ansett -18 69-66-64-67—266
9. Cooper Musselman -18 61-69-67-69—266
.
FORME TOUR POINTS STANDINGS
1. Trevor Werbylo 933
2. Turk Pettit 579
3. Mac Meissner 560
4. Philip Knowles 542
5. Samuel Sanders 500
6. Clay Feagler 488
7. Joseph Harrison 381
8. Luke Schniederjans 375
9. Joey Savoie 339
10. Carter Jenkins 316