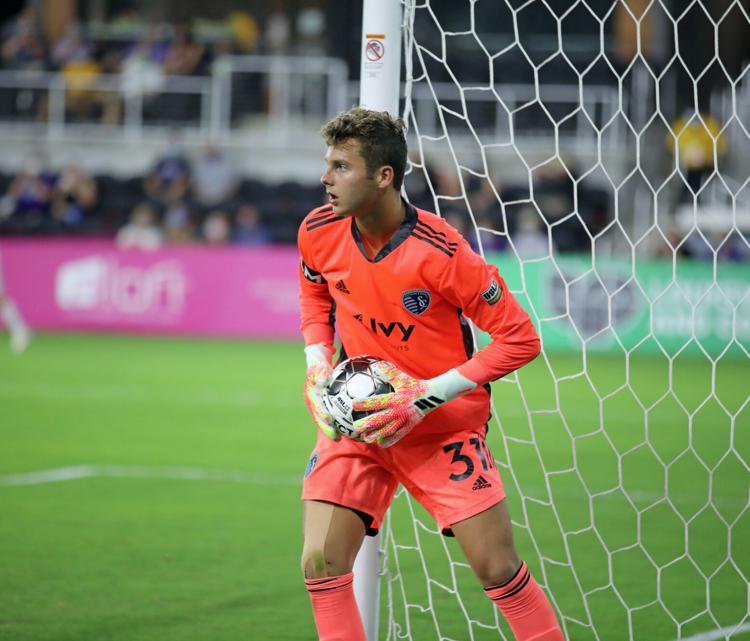 LOUISVILLE — Brooks Thompson should be starting his senior year at Floyd Central.
Instead, the 18-year-old is playing professional soccer.
You'll find Thompson in goal tonight for Sporting KC II when it faces Louisville City FC at 8 p.m. at Lynn Family Stadium in a United Soccer League Championship match.
"I'm living the dream," Thompson said Tuesday evening.
Thompson was born in Jefferson, in Clinton County, but spent much of his childhood in Floyds Knobs, attending Floyds Knobs Elementary and Highland Hills Middle School. However, prior to his eighth-grade year Thompson, then 14, transferred to IMG Academy in Bradenton, Fla.
"Ever since I was young I was just always attracted to sports, eventually I just got into soccer," he said. "The right opportunity came my way, I asked my parents and they made the tough decision to let me go.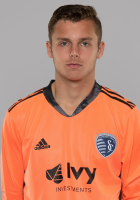 "It was definitely tough being away from home, but I was doing what I loved so I was happy."
Thompson spent two years at IMG before joining the Sporting KC Academy team. He played for the academy's U19 team during the 2018-19 U.S. Soccer Development Academy campaign. In 11 league matches he posted a 6-2-3 record while earning four shutouts and posting a 1.09 goals-against average and an 84.6 save percentage.
"I was in the academy for six months to a year before I signed a (pro) contract," said Thompson, who signed with the Swope Park Rangers (the team rebranded itself Sporting KC II before this season) a couple of months before his 17th birthday.
Thompson missed most of his first year with the team due to a stress fracture in his back, but was back at full strength to start this season. He didn't play in the team's 2020 opener, a 2-1 loss to the Charlotte Independence on March 8, before the league — like all other professional sports — was shut down by the coronavirus pandemic.
Thompson returned to the Knobs during the shutdown, spending time with his parents, Shane and Melissa, and his older brother, Riley, 20.
"I was able to come home for probably about a month or so," he said. "It was good to see my family."
Once workouts started up again, though, Thompson returned to Kansas City.
When the season resumed, the 6-foot-3, 185-pounder — who counts his athletic ability and confidence, in addition to his frame, as his strengths — was in goal for Sporting KC II's match at Indy Eleven on July 18 at Lucas Oil Stadium. Although Indy won 2-1, Thompson recorded nine saves — including a tip of a goal-bound header that was up for USL Championship Save of the Week — in only his second professional start.
Then, this past Saturday night, he was back in goal for Sporting KC II when it visited LouCity.
"It was really good," Thompson said. "I've always wanted to play in a stadium like that. The new stadium is really nice, it was good to just have fans there. It was good to get out in front of my friends and family too."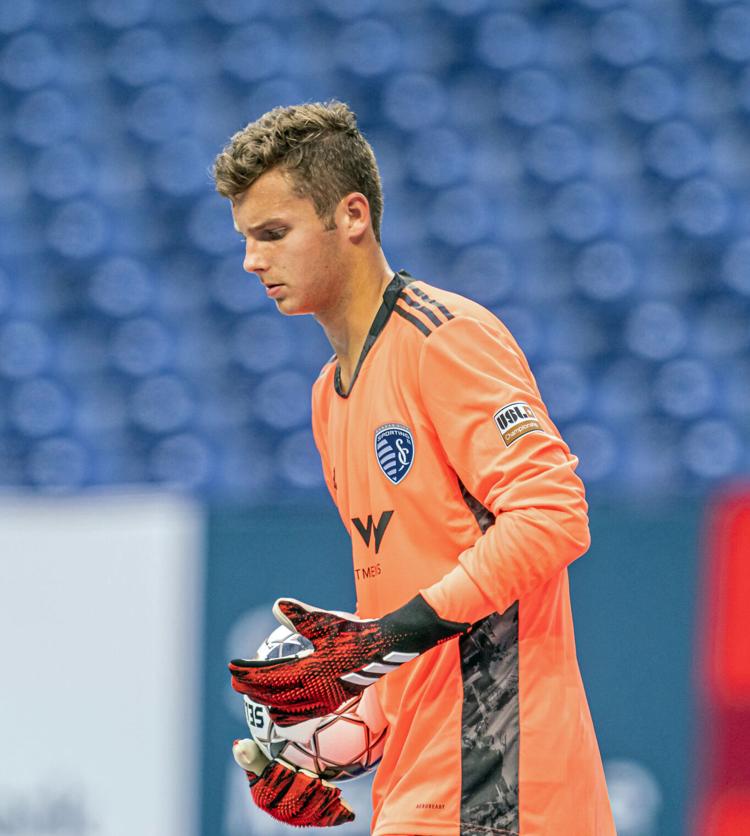 After a scoreless first half, Louisville's Cameron Lancaster headed in the match's lone goal in the 50th minute to give the home team the victory.
"Basically we just had a breakdown defensively, we were slow to get out and step," Thompson said. "They whipped a ball right in between two defenders and Lancaster, I believe it was, put it in. It was a quality header."
Tonight, Thompson and Sporting KC II, which has lost all three of its matches by a single goal, will try to avenge that defeat.
"We just need to find ways to win now," he said. "We've definitely proven that we can play with some of the top teams in the league, like Indy and Louisville, we just need to capitalize on our chances and finish games out."
After tonight's match, Thompson and his team return to Indianapolis to face Indy Eleven again Saturday. Four days later comes a match at Saint Louis FC before returning to Louisville again on Aug. 12. Sporting KC II then plays eight matches before closing out its regular season Oct. 3 at Louisville.
"I'm just trying to do my best in Kansas City and move up the ranks. Hopefully one day I end up in Europe playing in one of the top leagues over there," said Thompson, who also hopes to make the United States national team at some point too.
Until then, he'll continue to live his dream.
"I never knew when (playing professionally) was going to happen, but I always thought I could," Thompson said. "I'm just happy it's happening this early."