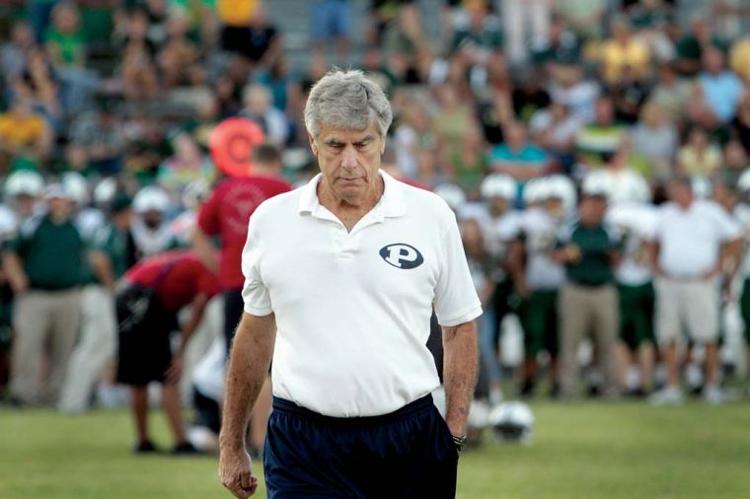 CLARKSVILLE — Gene Sartini was, is and will always be Providence football.
The long-time, and legendary, Pioneers coach passed away Saturday at the age of 88.
"Providence was just such an important part of his life, and then he was such an important part of Providence," said Pioneers volleyball coach Terri Purichia, a 1990 graduate who had Sartini as a teacher when she was a student at the high school, and as a mentor years later. "He was just somebody, in my opinion, who epitomizes what this school is all about. It was just something that was so very important to him and his family. He's really touched a lot of lives. Coach Sartini's going to be greatly missed by a lot of people in the Providence community."
Friday he will be laid to rest at Kraft-Graceland Memorial Park following a funeral at St. Anthony of Padua Catholic Church in Clarksville. Prior to that, though, his casket will be taken to the field behind Providence that bears his name, where former Pioneers players and coaches will pay homage to him.
"Anybody that worked for him, or anybody that was coached by him, or anybody who was his friend, was better off for having him in their life," said Ed Jackson, a former assistant coach to Sartini and a long-time friend.
LATE CHRISTMAS PRESENT
Eugene Sartini was born the day after Christmas in 1930 in Hammond — an industrial city just outside of Chicago — to Joseph and Emily Cardoni Sartini, a pair of Italian immigrants.
"He was very proud of his heritage," Jackson said. "He often talked about life in Hammond. How his mom wouldn't let him cross the tracks because they lived close to the railroad."
Sartini also told stories about the early years of his life during the Great Depression.
"He always used to tell me they would eat dandelion salad because times were so hard, and I never really knew if he was joking or not," Jackson recalled.
Sartini graduated from Hammond Tech High School in 1948.
"I think he was studying to be a plumber, but he didn't really want to be a plumber," Jackson said.
Sartini was an athlete. At Hammond Tech he participated in three sports, basketball, track and football, earning all-state honors in the latter. After graduation, Sartini left Hammond, and the midwest, for the deep south of Louisiana State University. He was only in the Bayou briefly, though, before heading to the University of Louisville.
His freshman year (1950) at UofL, Sartini, a receiver, led the Cardinals in receptions and total points. His average of 24.4 yards per catch that year still ranks second all-time. A good chunk of his yardage that season came in a November game against Washington & Lee during which Sartini and quarterback Bill Karns connected on a 94-yard touchdown — still the longest TD reception in program history.
Following his freshman year, Sartini was drafted into the military during the Korean War. He never saw combat action, but did spend some time in Europe.
After serving his country, Sartini returned to UofL, where one of his new teammates was a young quarterback by the name of Johnny Unitas.
"He loved Johnny Unitas," Jackson said of the future NFL Hall of Famer. "Gene said he'd always wake the Catholic boys up on Sunday morning to go to mass. … Sometimes he would go out to get a burger and Unitas would say, 'Hey Sartini, bring me back a cheeseburger.' Coach said he wasn't sure if Unitas ever paid him for any of those cheeseburgers."
In 1954, Sartini topped the team in receptions and receiving yards, as well as punting yards.
CUTTING HIS COACHING TEETH
After his playing days ended, Sartini got into coaching. His first job was as an assistant at now-defunct Louisa High School in Lawrence County, Kentucky, where he faced some of the challenges of coaching at a rural school.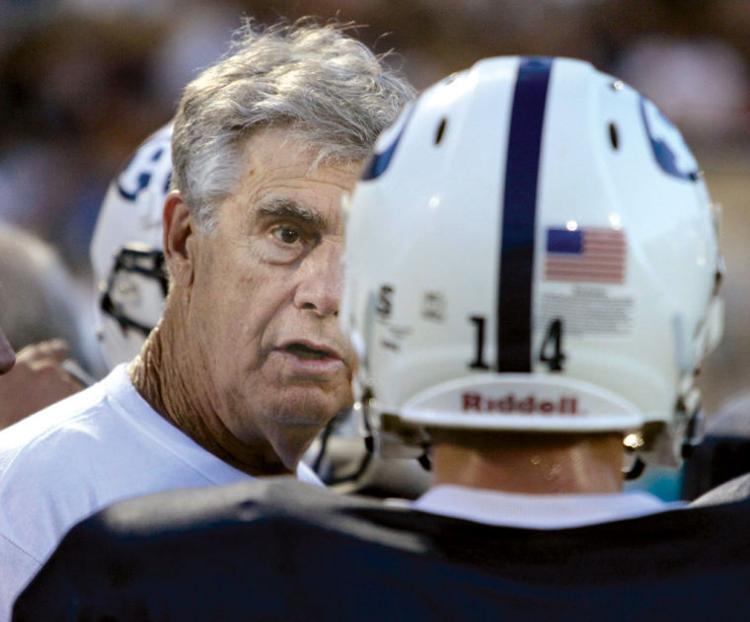 "He said one time they were going to play somebody and the bus had to cross this old rickety bridge," Jackson remembered. "He was afraid the bridge was going to collapse."
A year later Sartini became an assistant coach at now-defunct Flaget High School, a Louisville parochial power that produced Heisman Trophy winner and NFL Hall of Famer Paul Hornung. It was there that Sartini learned under Paulie Miller and Jim Kennedy, two legendary coaches in Kentucky.
"He always talked about Paulie Miller and Jim Kennedy," Jackson said. "Paulie Miller was a great coach, but it was Kennedy that taught him how to be organized and game plan."
Sartini eventually became the head coach at Flaget in 1969. He held that post for a year before moving over to Shawnee. After another year there, Sartini ventured across the Ohio River to take over at Providence, where he succeeded future fellow Indiana Football Hall of Famer Elmer Britton, and took with him many of the things he learned in Louisville.
"A lot of it's built on the tradition of Flaget High School," said current Providence head coach Larry Denison, who played under Sartini in the early 1980s and coached under him for 17 years. "The foundations of faith, family, football. It's something that I've lived with and we continue today. We've still got the 'burning desire,' another famous saying that he brought over from Flaget with him."
Something else Sartini brought with him were his winning ways.
The Pioneers lost a total of three games in his first three seasons, going 8-1 in 1971, 9-1 in '72 and 11-1 in '73. The latter ended with a 21-14 loss to Mishawaka Marian in the Class A state championship game.
"If you weren't ready to strap your helmet on and go hit somebody, you weren't going to make it very far," said Ben Hornung, Providence's department chair of health and safety and physical education, who played on the '73 squad and later coached under Sartini. "It was an amazing time and he was a great coach."
Providence had losing seasons in three of the subsequent five years, but only had one in the 20 years after that. During that time the Pioneers won their first four sectional titles (1982, '85, '93, '94) as well as their first regional title ('93) before losing 22-7 to West Lafayette in the 2A title game (coincidentally that same year Britton's Lake Central squad lost 33-27 to Bloomington South in the 5A final).
As the new millennium arrived and other schools began to adopt more pass-happy offenses, Providence continued to succeed running its antiquated Wing T offense. Much of that, Jackson said, was a credit to Sartini's defensive preparation.
"The first thing he would always do was try to figure out how to stop the other team," Jackson recalled. "One thing I always felt about coach was no matter who we played, we always had a chance to win, because he would always give us a chance."
Sartini guided the Pioneers to their fifth sectional title in 2007 — three years before his 40th, and final, season on the sideline.
Sartini finished his career as one of the winningest in state history with a 279-168 record.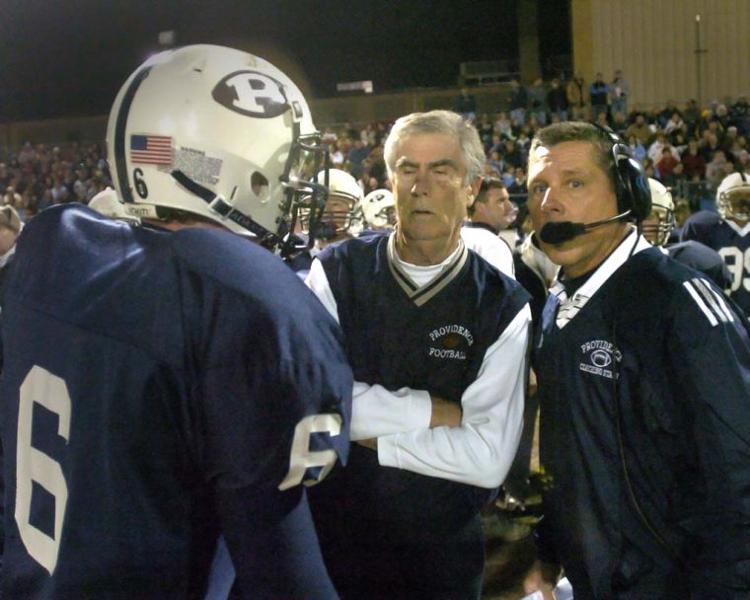 "He was one of the hardest guys to play for, but at the same time he was one of the greatest to play for," said Denison, who took over the Pioneers after Sartini's retirement. "Looking back on it, it made us who we are. One of the great testaments to Coach, was the way he made boys into men and not just men, good men — husbands, fathers, community leaders — that's a tribute to him.
"Other than my parents and my wife and my kids, probably no one has had more of an impact on my life than what Coach Sartini has. A friend kind of put it another way. He said, the three most important men in his life were Jesus, his father and Coach Sartini. It's amazing, that's a tremendous tribute to have anyone say that about you. The thing about Coach Sartini is you could probably ask any one of the guys that played for him in his 40 years and they'd probably say the exact same thing. To have hundreds, if not thousands, of young men say the same thing, that he was such an influential part of their life, is really remarkable. It's a tribute to the man."
THE TEACHER
Sartini wasn't just a coach, he was a teacher, too. For years he taught PE and health at Providence.
With his gruff exterior, broad shoulders and gravely voice, Sartini cut an imposing figure, especially to the freshmen in his PE class, whom he often called "ironheads" and referred to as "Johnnies" and "Susies."
"There were always Coach Sartini-isms, that you would take and talk about later, just the funny things that he said," Purichia said. "He didn't ever know that we thought they were funny because we couldn't laugh at the time, or else you'd get into big trouble. He was just classic. He was absolutely iconic when it came to the things that he said and how he said them and the things that he did. But also, he just made it so much fun."
Especially when it came time for the square-dancing unit in PE.
"He was quite a square-dancer," Purichia recalled. "Watching him throw Mrs. [Dottie] Zipp across and pirouette, that was always so much fun. And watching him put his cowboy hat on, he would call it 'giddy-up' and he would do this crazy little dance in a little circle and we would just crack up. Nobody could laugh at him, because then he would yell at you, but of course we were dying inside."
Purichia remembers a similar occurrence the following year when she had Sartini for health class.
"I remember the chapter on sex education and female pregnancy," Purichia recalled while laughing. "Coach Sartini wouldn't have any of it. He would never teach that unit and he would always bring Mrs. Zipp in to teach that because he said he couldn't figure out girls, he didn't want to know about girls and he couldn't explain it, so he would have a real girl do it. We would always crack up so much about that."
Years later, though, when Purichia returned to Providence, she kept a keen eye on Sartini.
"He was somebody I took a lot of notes of on how to do things," she said. "He was very disciplined and organized, he was just so detail-oriented with everything that he did. I think that was something, as a young coach I talked to him a lot about, 'How do you organize practice?' 'How do you do this?' and 'How do you do that?'"
POST-RETIREMENT
Following his retirement, Sartini spent a couple of years away from the program.
"We talked almost every week, but he would always kind of stay away from practice, he didn't want to intrude," Denison recalled. "So one day he said, 'Hey do you mind if I come watch practice a couple times?' I think he wanted to watch his grandson, Manny Schmidt, practice. And I said, 'Coach, you've got an open invitation. I mean, the field has got your name on it — anytime you want to come.'
"He came and he was just kind of sitting there watching practice and then he noticed our punters were sitting over there on the sideline and he'd sit there and talk to our punters and kickers. He'd come over and he'd sit and talk with them and work with them."
And even after his grandson graduated, Sartini still came around.
"He would be here before school was out and he would be waiting for everybody to get here," Denison remembered. "I'd come down and I'd be the first one in the locker room and he's sitting here on the training table waiting for the kids. He'd talk to them all and tell them hello. .... The kids enjoyed seeing him. He was a tremendous asset to the team, even though he wasn't really coaching, just being around and being part of it, they enjoyed having him here."
And vice versa.
"One of our young punters takes violin lessons, so some days he comes in late because he has violin practice," Denison said. "One day, it was a rainy day here for practice, we look for the kickers and they're not down there on the field anymore. We're still out there practicing and I left a play-call sheet on my desk, so I come into the locker room to get it. And I come in and there's Coach Sartini sitting there in his chair. He's got the two kickers there. One of them holding the sheet music and the other one's got the violin and he's playing. They're giving him a concert and he's sitting there tapping his foot along and just enjoying it. I said, 'How many football players would believe this sight?' To come into a locker room and to see Coach Sartini sitting here with two kickers playing the violin while practice is going on and he was just loving it. And, he had a great time with it. He was just a remarkable person."
While that image will likely stay with Denison forever, there was another, even more indelible one two years ago. Providence had just beaten Paoli 41-25 for its sixth sectional title — its first without Sartini — when the former Pioneers head coach shared a moment with the current one.
"When I was coming off the field he was the first person [to stop me]," Denison recalled. "I think he even got to me before my wife did. Usually my wife was the first one to come over and give me a hug and kiss, but Coach Sartini was the first one. He came over and gave me a big hug and gave me a kiss on the cheek and said that he was happy for me and proud. That was a special moment."
A moment that will live forever in Denison's mind. Much like the memory of Sartini will live on forever at Providence.