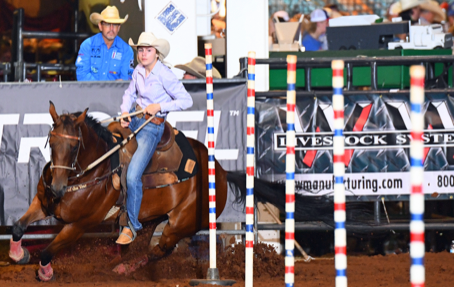 FLOYDS KNOBS — Landry Rice has always had high expectations of herself when it's come to rodeo.
"She's pretty goal-driven," her father, Tim Rice, recently said. "She had this goal of winning a national championship about five years ago."
Half a decade later, Landry Rice is a world champion.
The 14-year-old Floyds Knobs resident, a rising freshman at Floyd Central High School, recently brought home her first world title in pole bending, a rodeo discipline.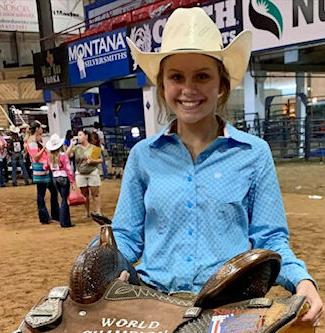 It was the culmination of something that Rice has been doing for nearly half her life.
"We always had horses around and I just fell in love with it," she remembered.
Rice got into rodeo when she was about 7 after going to some local shows.
"I like the competitiveness of it and knowing I have to be responsible for a lot of stuff and I have to work hard," she said, "it motivates me every time I go out there."
Shortly after getting into the sport, Rice got hooked up with local trainer Beverly Dietrich.
"She's been my coach for every event for a very, very long time," Rice said.
"Beverly kind of turned her on to rodeo. Sometimes we blame her and sometimes we thank her," Tim Rice added with a laugh.
That's because the sport takes a lot of time, effort and travel.
Rice takes care of her three horses — Liberty, Bender and Rusty — by feeding them and cleaning their stalls, along with giving them water and exercise.
She also practices her disciplines — pole bending, goat tying, breakaway roping and barrel racing — two to three times a week for 3 1/2 hours a day.
Rice competes in around 30 rodeos a year in states from as nearby as Kentucky and Illinois to those as far away as Oklahoma and South Dakota.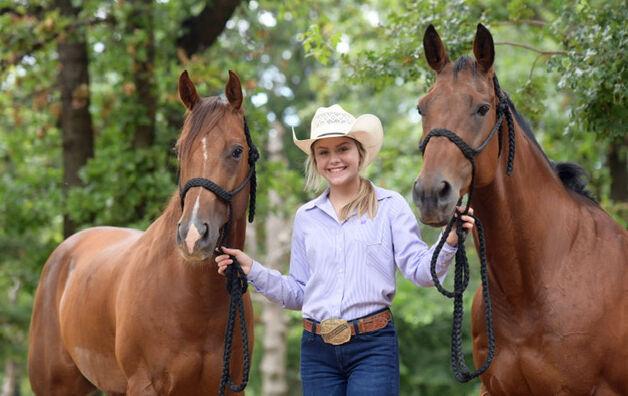 "I like going new places and seeing new things," she said.
Rice competes in three different associations, the biggest of those is the National Little Britches Rodeo Association. One of the oldest youth rodeo associations in the United States, it gives boys and girls between the ages of 5 to 18 the opportunity to compete in 33 events at over 500 rodeos annually.
Last month, she competed in the NLBRA finals in Guthrie, Okla. There, in the Junior Girl class, she won the world title in pole bending, a timed event in which Rice and her horse weaved their way around six poles arranged in a line. All three of Rice's runs took just over 20 seconds.
"I got a 20.1 (in the last go), which was pretty fast for that week," she said. "I got faster as I continued to do my runs. There was a lot of pressure on me, but I thought I handled it pretty well. It was a lot of fun coming out of that run and knowing that I did pretty good."
Rice finished the event with 733 points — 145 more than the runner-up.
"I've been doing poles since I started. I never really had that big of a liking to it, but ever since then I like it a lot," she said. "It's a really hard event because you've got a lot of pressure on you, there's a lot to think about. There's a lot of coordination (involved), and just being one with the horse I guess you'd say."
Rice also finished seventh in goat tying, an event in which the participant rides attached to a tethered goat, then dismounts, catches, throws and ties any three of its legs together; and breakaway roping, which the rider has to lasso a moving calf.
"I really like breakaway," she said.
At the nationals, Rice also finished second in the Girls Junior All-Around competition.
One day Rice hopes to earn a college scholarship in rodeo. Until then, though, she'll just continue to enjoy roping, riding and racing.
"For me, it's always brought me happiness," she said. "It brings me a lot of happiness and joy and I have a special connection with each of my horses — every one of them is different — so I think that's really cool."