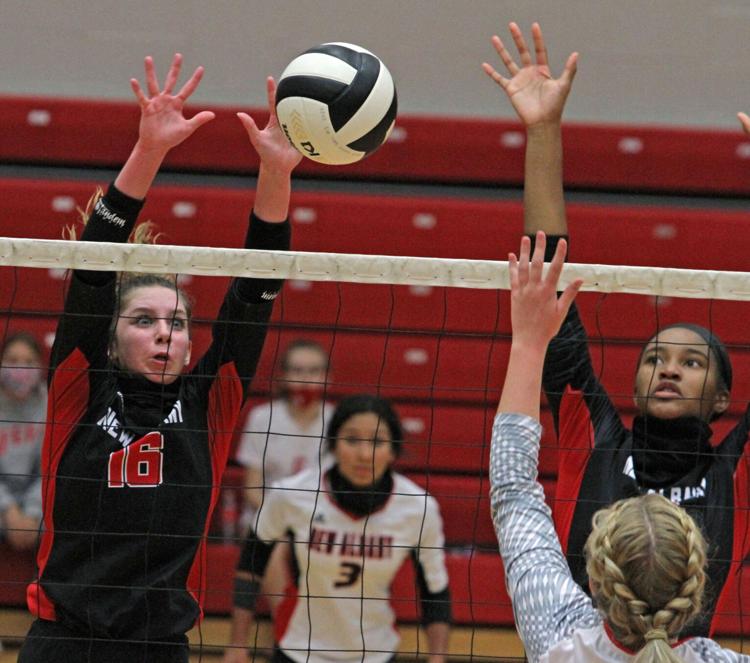 JEFFERSONVILLE — Like a proper rivalry, Tuesday night's Hoosier Hills Conference match between New Albany and Jeffersonville was close throughout.
The Bulldogs, though, outlasted the host Red Devils for a 25-23, 24-26, 25-17, 23-25, 15-12 triumph at Johnson Arena.
"We talked about heart and guts, and they found a way to win," New Albany coach Ryan Woosley said.
It was the Bulldogs' second win over Jeff in four days. New Albany outlasted the Red Devils 3-1 in their Round Robin this past Saturday.
"It just didn't work out our way," Jeff coach Wes Briscoe said. "We did all we could to win the match, New Albany just did a little bit more."
The Red Devils led early in the first set and a kill by Joselyn Lopez made it 3-1. New Albany answered with a 4-0 run and led 5-3 after a kill and a block by Kamori Knight.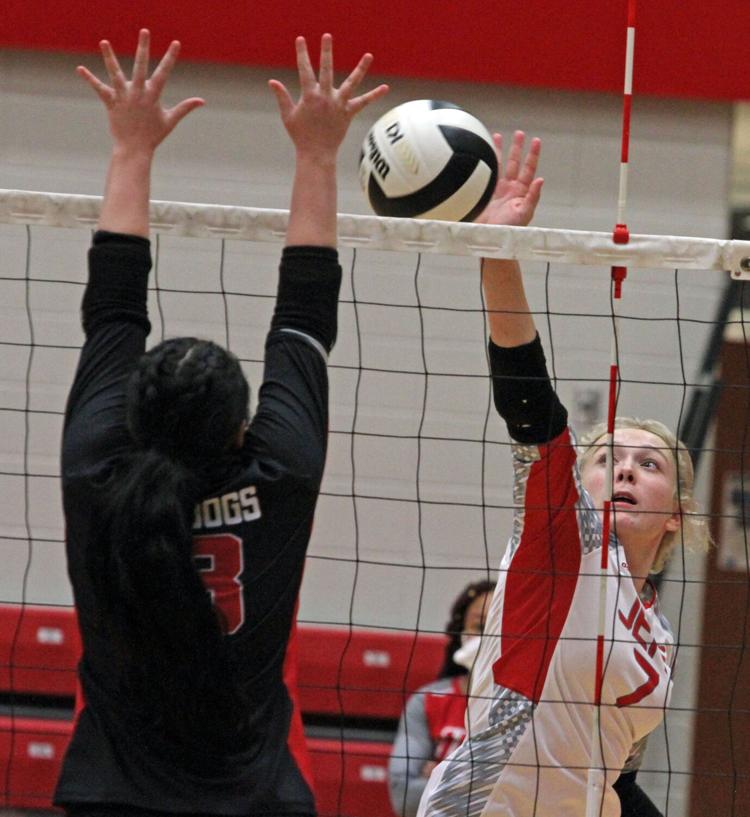 It was 6-all when the Bulldogs made enough of a run to keep the lead for the rest of the set. An ace by Cheyenne Palmer put New Albany up 13-7, capping the 7-1 run.
The Red Devils kept fighting and were within five, 14-9, after a kill by Lopez. It was 18-13 and the Bulldogs looked to be in control before Jeffersonville surged late, pulling to within one at 19-18. It was back and forth after that. A kill by New Albany's Ashlyn Clifton put the Bulldogs on top 23-20. The Red Devils would pull to within a single point twice, thanks to a block by Elliot Mays and a Kayleigh Gernand kill, which pulled the hosts within 24-23. New Albany, however, iced the win on a service error by the Red Devils.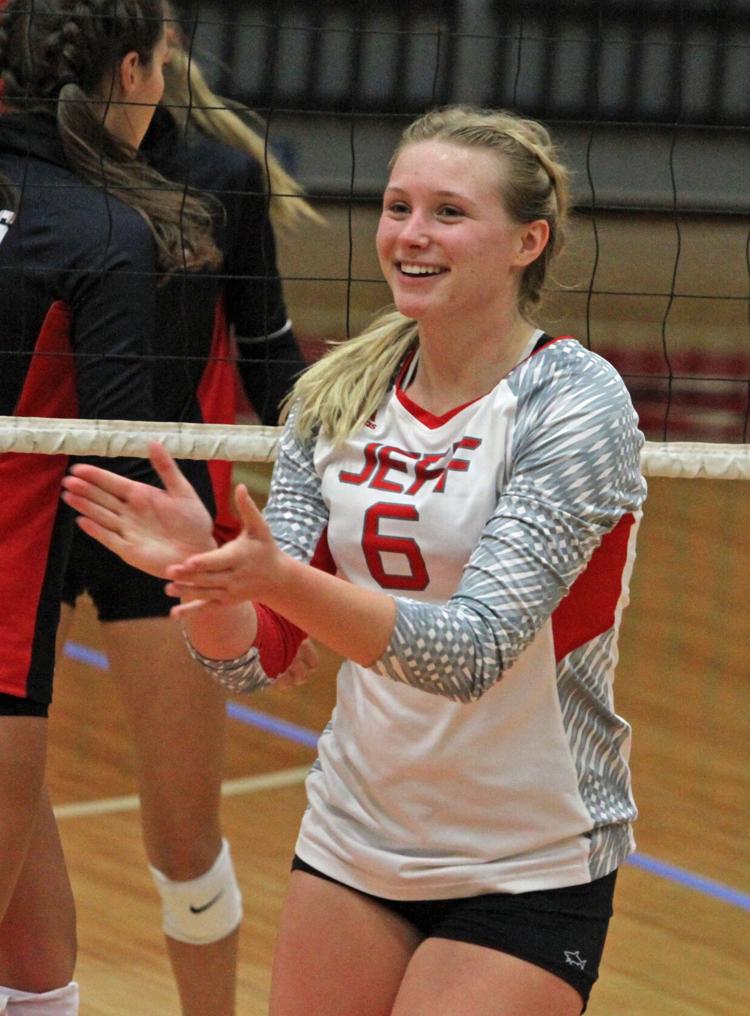 New Albany looked to take control in the second set and led 6-2 before the Red Devils fought back with a 5-0 run to lead 7-6. A kill by New Albany's Tess Owsley tied it at 7, a kill by Jeff's Jalayah Hamby tied it at 8. It was that close for the rest of the set.
It was 11-all after a kill by Gernand, as the Red Devils surged to a 15-13 lead. New Albany answered and led 17-15 after a kill by Owsley and an ace by Clifton.
The Red Devils (5-9, 0-2) bounced back with a huge 6-0 run — sparked by a Gernand kill – to go on top 21-17.
New Albany (7-4, 3-1) wasn't finished. A block and a kill by Knight started a Bulldogs' run. New Albany took a 23-22 lead on an ace by Riley Sawyer. It was tied at 23 and 24 before the Red Devils got a tip by Gernand to win it 26-24.
After dropping a close second set, the Bulldogs got off to a fast start in the third. A pair of kills by Knight helped New Albany to a 9-1 lead.
It was 18-8 and New Albany was cruising when the Red Devils responded in a big way. An ace by Mattie Blanton was part of a 5-0 run and the New Albany lead shrunk to five, 18-13.
A kill and a block by Gernand would help the Red Devils get to within three, 19-16, but they would get no closer. Aces by Clifton and Sawyer helped the Bulldogs to a 24-17 lead on the way to a 25-17 win in the third set.
The fourth set resembled the first two – close from the start. Jeffersonville tied it at 5-all on a block by Taylor Shelton and Hamby. New Albany tied it at 7 on a kill by Alexis Caldwell.
Back and forth it went, tied at 15 on an ace by Jeffersonville's Erynn Dickson and at 20 on a kill by Gernand. An ace by Rachel Lowe put the Red Devils on top 22-20 and they were able to keep the Bulldogs at bay after that, winning 25-23.
On to set five, where a fast start is important. The Red Devils had one. A pair of kills by Lopez helped the hosts to a 7-4 lead. New Albany, though, answered with a kill and a block by Knight to tie it at 7.
Jeffersonville hit back. An ace by Gernand was part of a 3-0 run for a 10-7 lead.
The Red Devils led 11-8 after a Hamby kill. But the Bulldogs weren't finished.
A kill by Palmer tied it at 11 before kills by Caldwell and Owsley helped give New Albany a 14-12 lead on the way to the 15-12 fifth-set win.
The same two teams will meet again at 9 a.m. Saturday in New Albany's Ultra Ankle Tournament. 
.
NEW ALBANY 3, JEFFERSONVILLE 2
Jeffersonville  23  26  17  25  12
New Albany     25  24  25  23  15
NA stats – Kills: Caldwell 16, Clifton 12; Digs: Martin 29, Clifton 18; Assists: Palmer 43; Blocks: Yowell 3; Aces: Sawyer 5, Palmer 4, Stivers 3.
Jeff stats – Kills: Gernand 17, Mays 9; Digs: Luce 17, Blanton 12, Lowe 12; Assists: Griffin 17, Norris 14; Blocks: Shelton 4, Hamby 4; Aces: Lowe 2, Dickson 2.