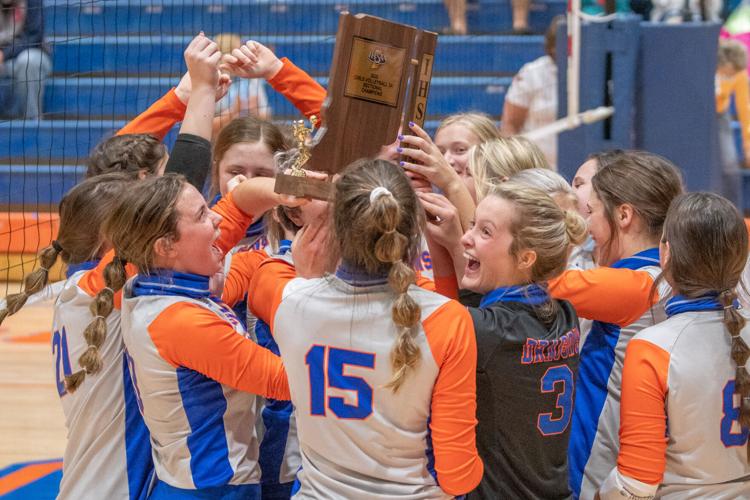 SELLERSBURG — During a year when they, like everyone else, have faced a season with the uncertainty caused by the COVID-19 pandemic, the Silver Creek Dragons find themselves in a familiar position — heading back to the regional.
The fifth-ranked Dragons swept Scottsburg 25-12, 25-18, 25-13 in last Saturday night's Class 3A Silver Creek Sectional final to capture their fourth crown in a row and advance to this Saturday's Corydon Central Regional.
"I think the previous three were expected, but I don't know that we've gotten a whole lot of respect this year," said Silver Creek coach Jeff Zimmerman, whose team is 25-8 this season. "To come out and go 22-8 during the regular season … this is maybe the hardest-working group we've had. They've persevered and been through a lot. I couldn't be prouder of them."
The Dragons are led by five seniors — Bella Hinton, Anna Dablow, Mallory Ramsey, Katie Hawkins and Maddy Keinath.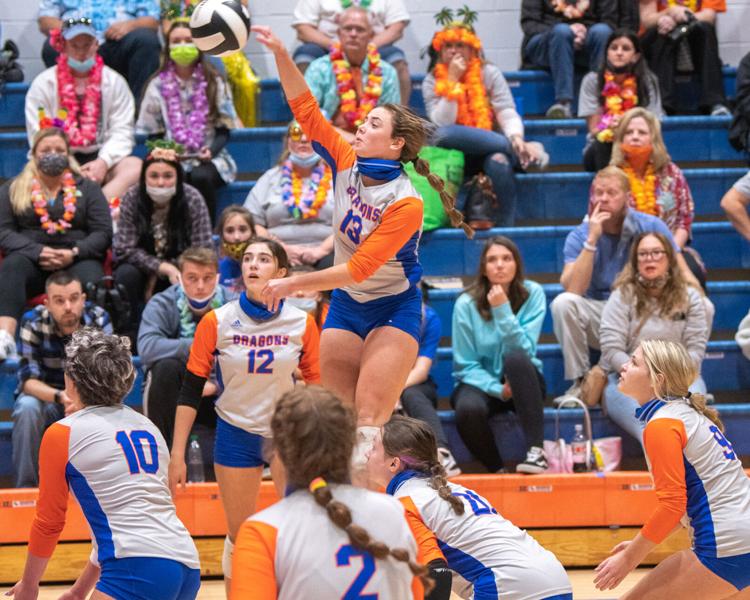 Creek, which swept Madison while the Warriorettes did the same to Christian Academy in the semifinals, came into the championship match with a little bit of a question mark with the health of Hinton. The outside hitter suffered an ankle injury in Tuesday's first-round win over Charlestown and sat out the morning semi against the Cubs.
Hinton returned to the lineup Saturday night and contributed seven kills in the win.
"I don't know if I felt like I was fully there, but I think by next week I'll be ready," Hinton said.
The Warriorettes started with a lead in each set, but Silver Creek quickly eclipsed the visitors. The second set was the tightest, as Scottsburg held a 12-11 lead.
Then a block from setter Abby Marks reset the service in Silver Creek's favor and an ace by Kiki Brown gave the Dragons the lead for good. They notched five of the next six points and averted the threat, taking the second set 25-18.
"We weren't sure if Bella was going to be able to play, and for her to gut it out, and for the other girls to step up, it was really great to see," Zimmerman said. "We've sort of lived and died by our defense this year, and we did really well tonight. Kiki and Mallory were exceptional tonight on service. I'm really proud of all of them."
The Dragons rolled in the third set en route to their 10th sectional title.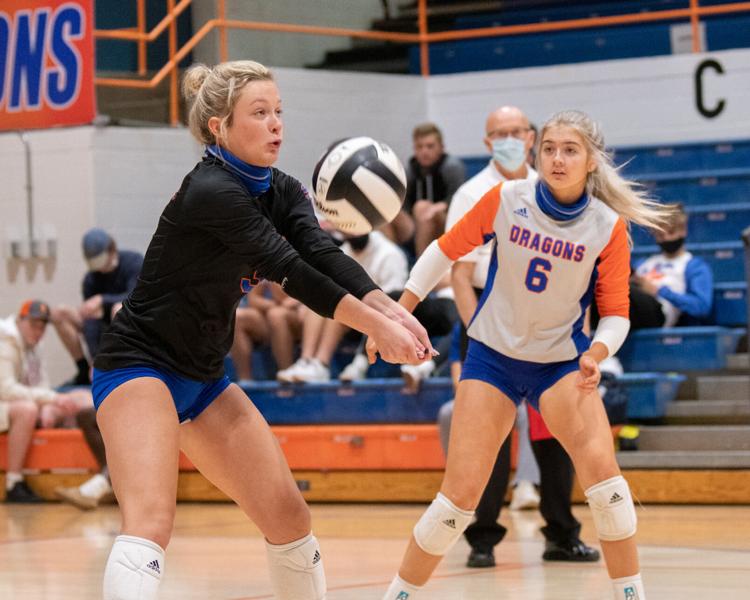 Five players notched at least five kills for Creek. Sophomore Maddie Hunter led the way with nine while Dablow added eight, Hawkins six and Macy Ferrell five. Marks dished out 33 assists while Ramsey topped the team in digs (10) and tied Brown and Hunter with two service aces.
"Our season has been a little bit strange," said Hinton, whose team started its regular season later than most due to a squad-wide quarantine. "But we've worked really hard to fight through it, and here we are again. It's a great feeling."
The Dragons will face unbeaten Greensburg (22-0) at noon this Saturday in the regional semifinals. Mt. Vernon (26-7) will take on Vincennes Lincoln (24-9) in the first semi at 10 a.m. The championship is scheduled for 7 p.m. that night.
.
CLASS 3A SILVER CREEK SECTIONAL
Match 1: Madison d. Salem 26-24, 25-16, 25-19, Tuesday
Match 2: Silver Creek d. Charlestown 25-14, 25-9, 25-6, Tuesday
Match 3: CAI d. North Harrison 26-28, 24-26, 26-24, 25-18, 15-9, Thursday
Match 4: Scottsburg d. Corydon Central 26-24, 25-22, 25-22, Thursday
Match 5: Silver Creek d. Madison 25-13, 25-16, 25-19, Saturday
Match 6: Scottsburg d. CAI 25-15, 27-25, 25-17, Saturday
Final: Silver Creek d. Scottsburg 25-12, 25-18, 25-13, Saturday
.
SILVER CREEK 3, SCOTTSBURG 0
Scottsburg  12   18   13
Silver Creek 25   25   25
SC STATISTICS
Kills: Maddie Hunter 9, Anna Dablow 8, Bella Hinton 7, Katie Hawkins 6, Macy Ferrell 5, Abby Marks 1, Ellie Priddy 1, Mallory Ramsey 1, Emily Weber 1.
Blocks: Ferrell 1, Marks 1, Weber 1.
Assists: Marks 33, Ramsey 2, Kiki Brown 1.
Aces: Brown 2, Hunter 2, Ramsey 2, Ferrell 1, Katie Henry 1, Marks 1.
Digs: Ramsey 10, Brown 6, Marks 6, Audrey Landers 4, Henry 4, Hinton 2, Hunter 2, Dablow 1, Hawkins 1, Weber 1.