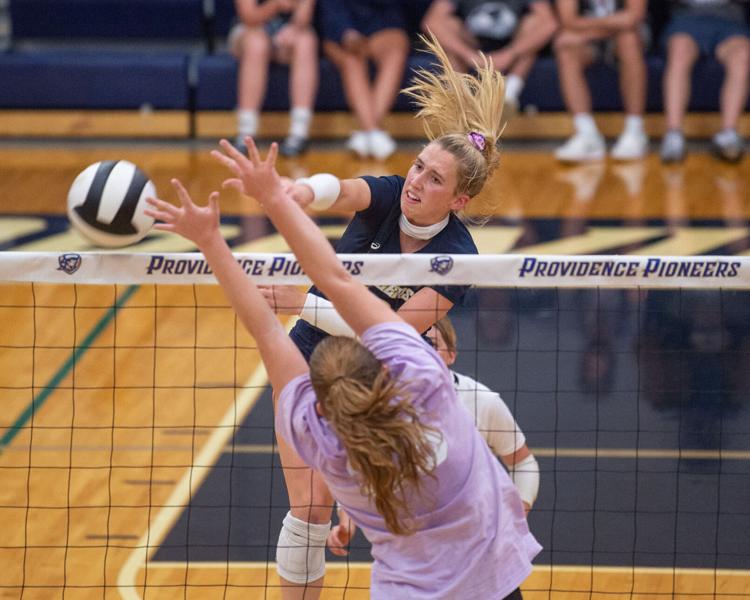 CLARKSVILLE — Providence started slow, but finished with a flourish Wednesday night.
The Class 4A No. 9 Pioneers dropped the first set to visiting Floyd Central, but rebounded for a 13-25, 25-19, 25-19, 25-21 triumph at the Larkin Center. It was somewhat similar to last year's sectional semifinals in which the Highlanders won the first set, before Providence took the next three.
"Floyd seems to always come out with so much energy and intensity in the first set against us and it always seems to rattle our cage a little, but they settled down and they did a lot better job," Pioneers coach Terri Purichia said.
Providence (12-3) was coming off a 3-1 loss at Louisville's Mercy Academy, which is ranked second nationally, on Tuesday night.
Purichia was honored for her 600th career victory, which came Sept. 5 against Franklin, prior to Wednesday night's match against the Highlanders (7-5). However it was Floyd that started strong, taking the first set by 12 points.  
"We just did not play very well, we were not ready," Purichia said. "But in the second set we did a couple of adjustments, flipped some things around and we did a much better job picking up.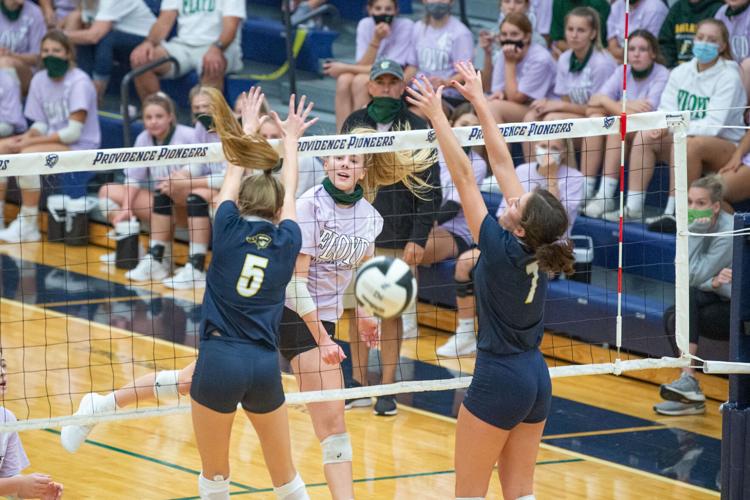 "They run a two-ball out of the middle, we couldn't really stop that in the first set, but we made a little fix on that one and did a pretty good job. I was pleased to come back out and take that one in the fourth set too."
Providence senior standout Ali Hornung topped the team with 16 kills, while sophomore Grace Purichia added eight to go along with 22 assists and five service aces. Susie Grigg led the defense with 14 digs while freshman Lilly Kaiser had three block assists against the Highlanders, who are unbeaten in the Hoosier Hills Conference so far.
"We played well," Floyd Central coach Bart Powell said. "I've got a (li)bero that was out and took a left-side completely out of the lineup tonight. Shoot one time I had, I think, five sophomores and a freshman out there and we were battling, absolutely battling. Providence is a great team and Ali Hornung's a great player and we battled them to the end. I think the score at the end was 88-85, so that's something for us to work forward. We did a lot of good things tonight."
The Pioneers host Louisville Male at 7 p.m. tonight.
"I have a feeling tomorrow's going to be a little sluggish. We've just got to keep working to get better. I think we're trying to do that," Purichia said.
The Highlanders, meanwhile, will participate in New Albany's Ultra Ankle Challenge on Saturday.
PROVIDENCE 3, FLOYD CENTRAL 1
Floyd Central     25     19     19     21
Providence        13     25     25     25     
MATCH STATISTICS
     Kills: FC — Kaylee Hunt 7, Sydney Williams 6, Caroline Hilbrich 5, Kayden Holcomb 5, Kylie Minnis. P — Ali Hornung 16, Grace Purichia 8, Anna Purichia 7, Emma Kaelin 6, Lydia Rush 5. 
     Blocks: FC — Holcomb 3, Jenna Heidbreder 3, Hunt 2. P — Lilly Kaiser 3, G. Purichia 2, A. Purichia 1, Kaelin 1, Rush 1. 
     Assists: FC — Mandy Hess 12, Courtney Combs 8. P — G. Purichia 22, Kaelin 13, Susie Grigg 4. 
     Aces: FC — C. Hilbrich 5, Hess 3, Combs 2, Livi Lancaster 2. P — G. Purichia 5, A. Purichia 3, Grigg 1, Hornung 1, Kraft 1. 
     Digs: FC — C. Hilbrich 12, Holcomb 9, Hess 6, Lancaster 5, Heidbreder 4, Combs 3, Hunt 3. P — Grigg 14, Hornung 10, Miranda Harley 7, Kaelin 6, G. Purichia 6.