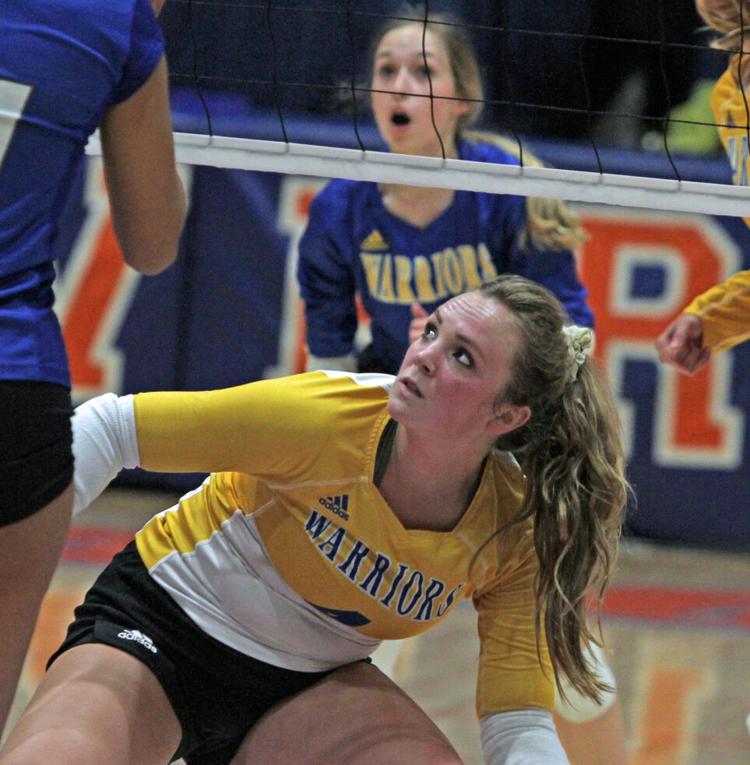 SELLERSBURG — Christian Academy rallied from a two-set deficit to beat North Harrison 26-28, 24-26, 26-24, 25-18, 15-9 in a thrilling match in the first round of the Class 3A Silver Creek Sectional on Thursday night.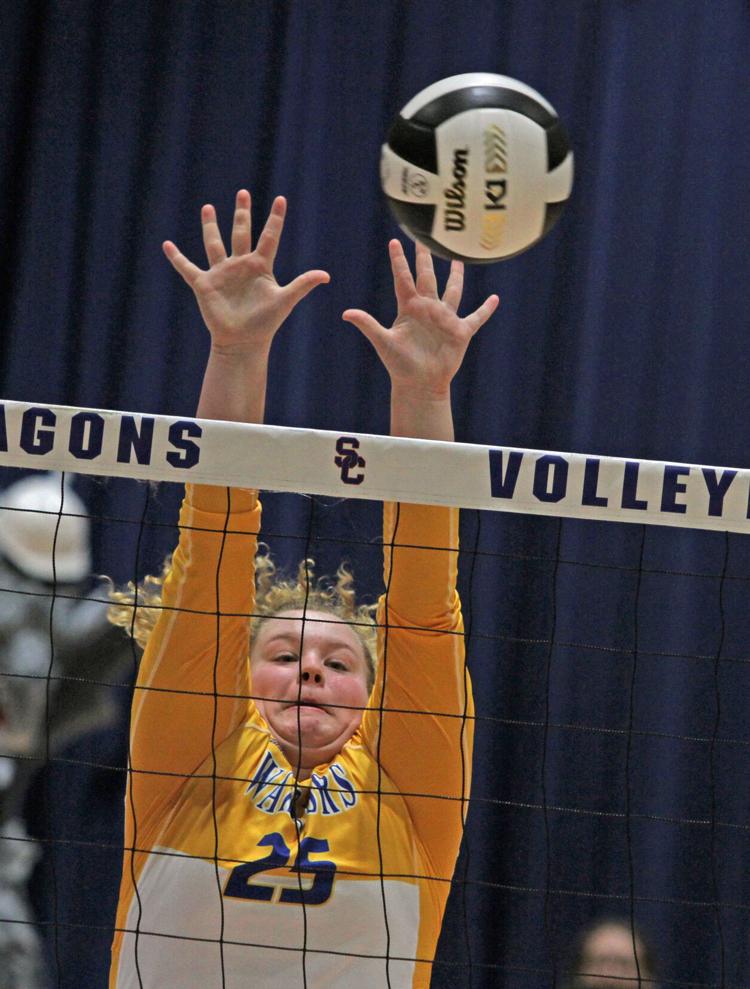 Freshman Ella Baldwin tallied 29 kills and 13 digs while senior Adeline Baldwin notched 50 assists and 15 digs for the Warriors. Also for CAI, Jolie Miles recorded eight kills and 15 digs while Abby Vancampen contributed 49 digs and six service aces. 
"Tonight was the best night of volleyball we have played in weeks," Warriors coach Chrissy Millen said. "Even though we dropped the first two sets, we were close the entire way. In the third set we got down late, 20-14, and it wasn't looking good for us. A huge defensive play late in the set from Abby Vancampen, Ella Baldwin and Adeline Baldwin kept a play alive and was the spark we needed for our comeback. Chloe Wiseheart stepped back behind the service line with us down 24-21 and was able to rattle off a good serve rotation for us to pull out a 26-24 win. We kept our momentum going into the fourth set taking an 18-9 lead. Both outside hitters, Jolie Miles and Ella Baldwin, were on fire that set and were putting balls down at will. The fifth set was back-and-forth until 9-all, when we scored six straight points for the win. Karlyn Denny and Ella McCoy were a big presence at the net for us tonight defensively. Mollie Hoagland did a good job picking up short balls and tips. It was a total team effort tonight."  
CAI (7-10) will face Scottsburg (20-11), which swept Corydon Central 3-0 Thursday night, at around noon Saturday in the second sectional semifinal. The host Dragons (23-8) will take on Madison (10-15) at 11 a.m. in the first semi. The championship is scheduled for 7 p.m. that night.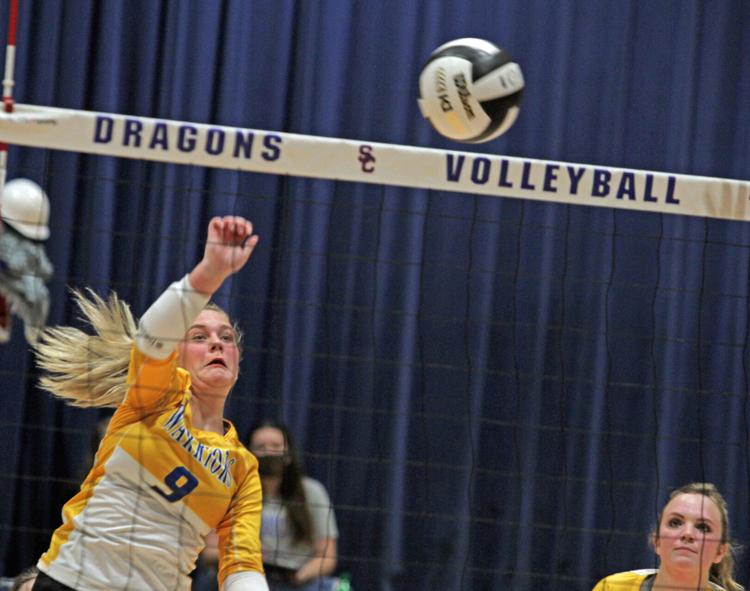 .
CLASS 3A SILVER CREEK SECTIONAL
     Match 1: Madison d. Salem 26-24, 25-16, 25-19, Tuesday
     Match 2: Silver Creek d. Charlestown 25-14, 25-9, 25-6, Tuesday
     Match 3: CAI d. North Harrison 26-28, 24-26, 26-24, 25-18, 15-9, Thursday
CAI 3, NORTH HARRISON 2
North Harrison           28     26     24     18      9
Christian Academy     26     24     26     25     15     
CAI STATISTICS
     Kills: Ella Baldwin 29, Jolie Miles 8, Karlyn Denny 5, Ella McCoy 1, Mollie Hoagland 1, Adeline Baldwin 1.
     Blocks: Denny 3, Miles 2, E. Baldwin 1.
     Assists: A. Baldwin 50, Abby Vancampen 7
     Aces: Vancampen 6, Chloe Wiseheart 4, A. Baldwin 2, Denny 1.
     Digs: Vancampen 49, A. Baldwin 15, Miles 15, E. Baldwin 13, Wiseheart 10, Denny 5, Hoagland 3, Haley Jones 2, McCoy 2.
.
     Match 4: Scottsburg d. Corydon Central 26-24, 25-22, 25-22, Thursday
     Match 5: Madison (10-15) vs. Silver Creek (23-8), 11 a.m. Saturday
     Match 6: CAI (7-10) vs. Scottsburg (20-11), noon Saturday
     Final: Match 5 winner vs. Match 6 winner, 7 p.m. Saturday