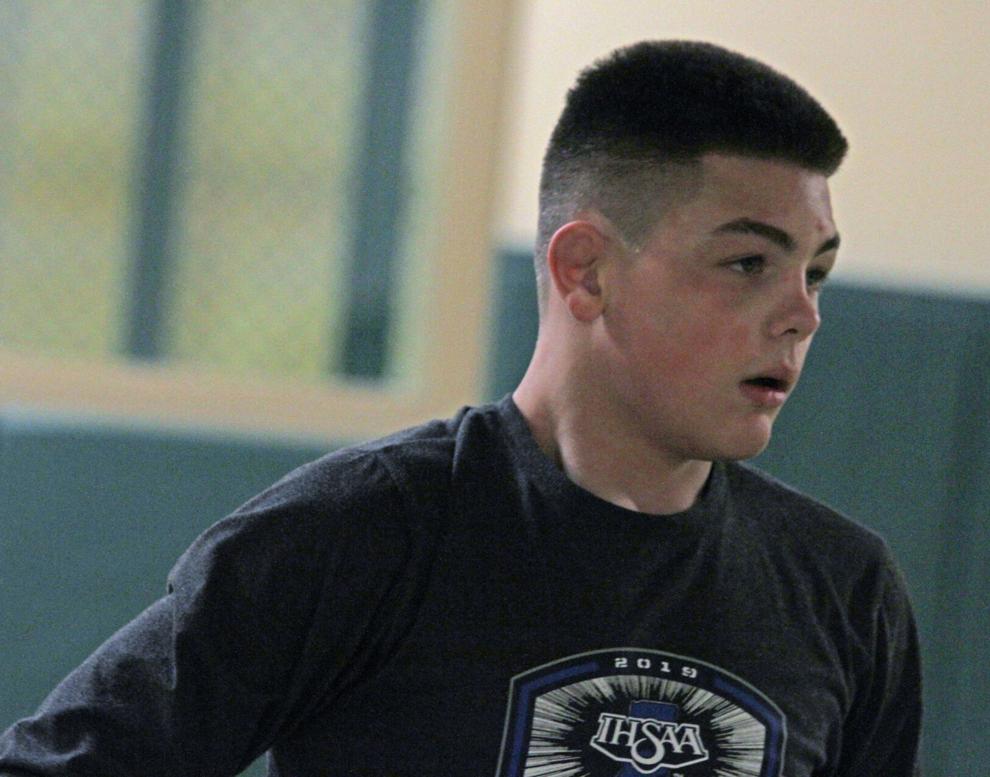 FLOYDS KNOBS — After qualifying for the IHSAA State Finals as a freshman and sophomore, Gavinn Alstott failed to make it to last year's event after losing in the semistate round of the state tournament.
Alstott, however, still made the trip to Bankers Life Fieldhouse last February to root on Floyd Central teammates Jonathan Kervin and J Conway.
"I wanted to go to support the team and I wanted to be there with the guys because I felt like I'd worked so hard, I wanted to be with them too," Alstott recalled earlier this week. "But at the same time it was a little bit emotional for me at the end. Especially seeing the guy that I beat last year win state, but at least we had a champion in Jonathan last year. And J placed too, so it made everything a lot better."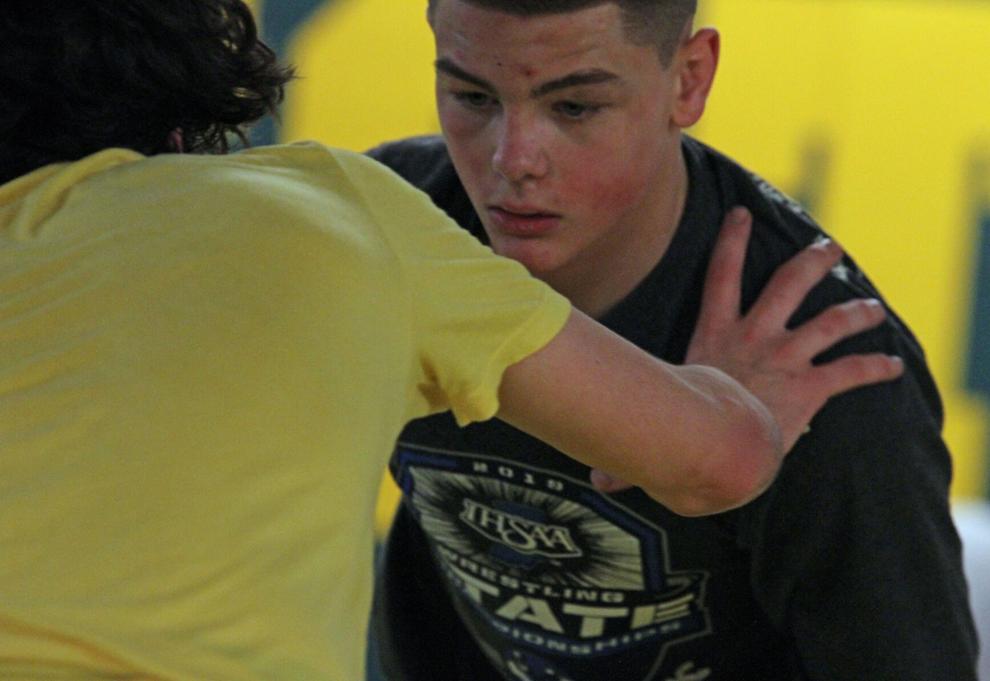 Fueled by that bittersweet trip to Bankers, the senior makes his return to that building this morning in the first round of the IHSAA State Finals.
"My goal is, I've wrote it down in my phone every year, it's win that state championship," Alstott said.
Dreams of a state title began many years ago for Alstott, whose uncle Craig was a four-time state qualifier for Floyd back in the 1980's.
"I started when I was 8 years old and I think part of it was I heard my uncle had wrestled. Then I got a flier (about wrestling) and I was like, 'I'm going to try this. This looks really cool,'" Alstott remembered. "I didn't really know what it was. I didn't know all the responsibilities and how it was going to end up, but my grandpa (Ronnie), he kind of helped me stick with it. He was like, 'You're really good, you shouldn't quit.' There were times when it was hard, but I stuck through it and I'm grateful that I did.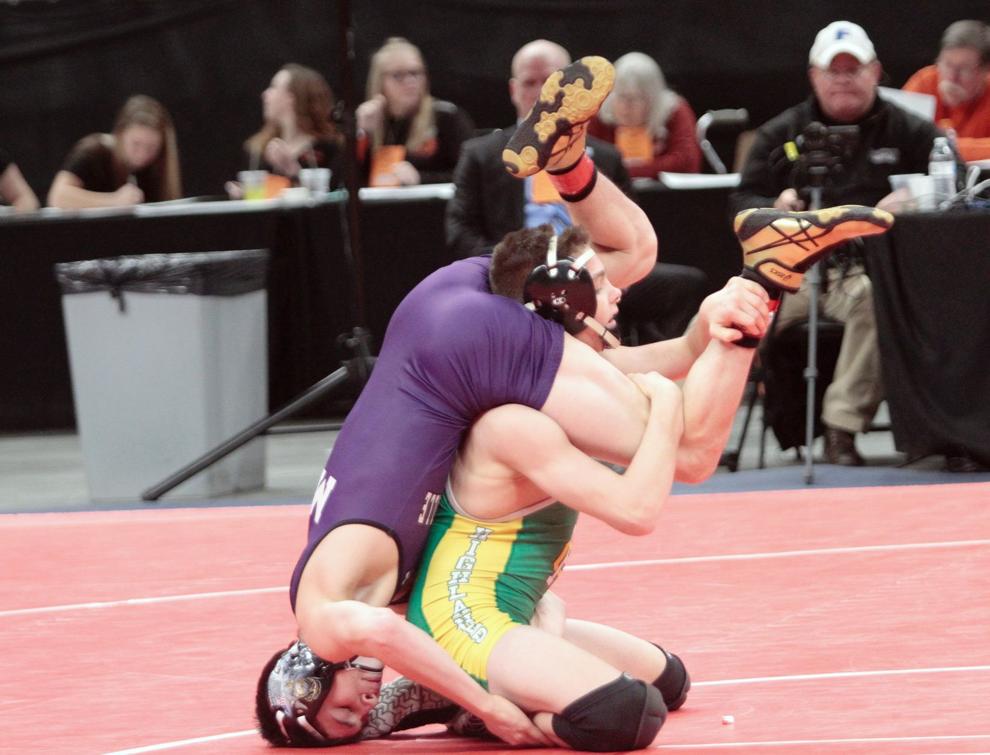 "When I first started in second grade, I didn't win a match for like a whole year. I was nervous, I was not any good, but I stuck with it. Then when I got in about the sixth or seventh grade, that's when I started placing in middle-school state and that's when it kind of took off. And, that's when it became more fun too."
By the time he was a freshman, Alstott was a seasoned vet. Grappling at 106 pounds, he won a sectional title and finished second at the regional before taking third at semistate to earn his first trip to the State Finals, where he lost his first-round match by two points to the eventual state runner-up to finish with a 37-4 record.
"Gavinn's been a tremendous leader for us for four years," Floyd Central coach Brandon Sisson said. "His freshman year he was helping seniors that were struggling in wrestle-offs and things like that. That's something I'll never forget."
As a sophomore, after moving up to 113, Alstott once again won the sectional before capturing his first regional, then took third at the semistate. At his second straight state meet, he won his first two matches on his way to a fourth-place finish and a 42-4 record.
Last year, after moving up to 126, Alstott rolled through the regular season and the first two rounds of the state tournament, capturing his third straight sectional title and his second regional crown in a row. At the Evansville Reitz Semistate, he won his first match with a pin in 1 minute, 7 seconds before dropping a 3-1 decision to Monrovia junior Ben Dalton in the quarterfinals (a.k.a. the "ticket round") to fall one victory short of a third straight State Finals appearance.
It was a tough blow, especially since Kervin and Conway — who along with Alstott were dubbed the Highlanders' "Three Amigos" — punched their tickets to the state meet.
In spite of that, Alstott didn't hesitate in asking Sisson for a pass to attend the State Finals.
He was with Kervin and Conway all weekend and was among the first to congratulate the former after he won the state title at 152 and the latter following his sixth-place finish at 138.
"The plan was all three of us being there. I just wanted to be there with them," Alstott said. "I think it helped Jonathan and J too, seeing me support them throughout it."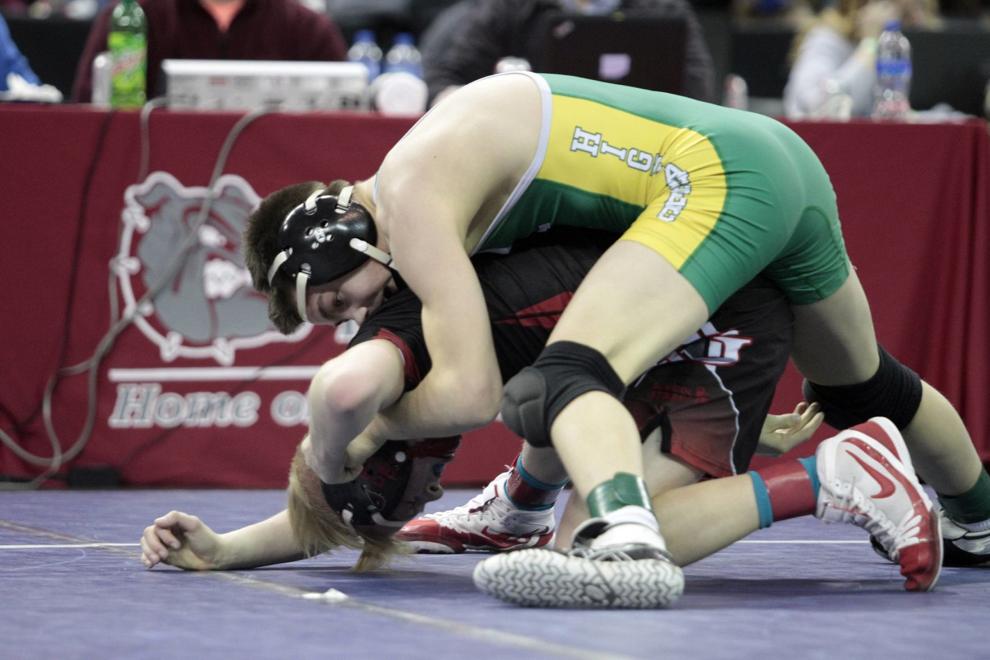 "I've been in the situation where I lost Friday night (at state) and had to sit and watch people wrestle and accomplish things, and he didn't even get to go and he insisted on being there. That's hard," Sisson said. "A kid that had been there two years in a row, he insisted on going. There's no doubt that it was probably a very, very hard day because the kid who ended up winning (his weight class) he had beat earlier in the year.
"It just shows what kind of kid he is. You can use all the hyperbole you want about him and every one of them is going to be true. It says a lot about him, what he did last year and then to come back and make it his third time this year with a chance to place again, hopefully place really, really high."
Despite bumping up two weight classes, to 138, Alstott once again ran roughshod through the regular season and the first two rounds of the state tourney, taking home his fourth sectional and third regional titles. At last Saturday's Jasper Semistate, Alstott won his first match 6-2, his second 16-0 and his third 3-1 before dropping a 3-2 decision to Evansville Mater Dei senior Blake Boarman — the defending state champion — in the final.
"It was really close and I made one slip-up and he countered it and scored a takedown late in the second period," said Alstott, whose three losses this season have all been to Boarman.
Alstott (25-3), who is ranked fourth in the state by indianamat.com, will face fifth-ranked Wawasee senior Jace Alexander (24-1) in a first-round match today. If he wins that match, he'll face either Oak Hill junior Brody Arthur (38-1), who is ranked No. 15, or Pendleton Heights senior Jared Brown (19-4), who is 19th.
Bloomington South sophomore Delaney Ruhlman (27-2), who is ranked second in the state, is on the same side of the bracket as Alstott, who boasts a career record of 142-13. Meanwhile Boarman (28-1) and top-ranked Crown Point junior Jesse Mendez (30-0), a two-time state champion, are on the opposite side.
Regardless of what happens, Alstott plans on attending The Citadel in the fall and wrestling there.
"When you have a kid like Gavinn, who takes care of it in the classroom and who takes care of it in the wrestling room, it's a great, great example," Sisson said of Alstott, who has a better than 4.0 grade-point average. "He's going to be greatly missed in this program, but his example has been set and I think it's going to last a long time."
Alstott, however, still has this weekend.
"I can't control the results, but I'm just going to do the best that I can and enjoy it," he said. "It's crazy how time flies, so I'm just going to enjoy it. My subgoal is to win the last match of my high school career. So if I'm going for third, going for first, going for whatever it is, to come out on top, that's the goal.
"I've worked so hard before high school, in high school, it's always been the goal to be under the lights (in the state final). I'll definitely be more focused than I've ever been. Whatever happens, happens. I kind of learned last year that I can't control the outcome, so I'm just going to let it fly basically."