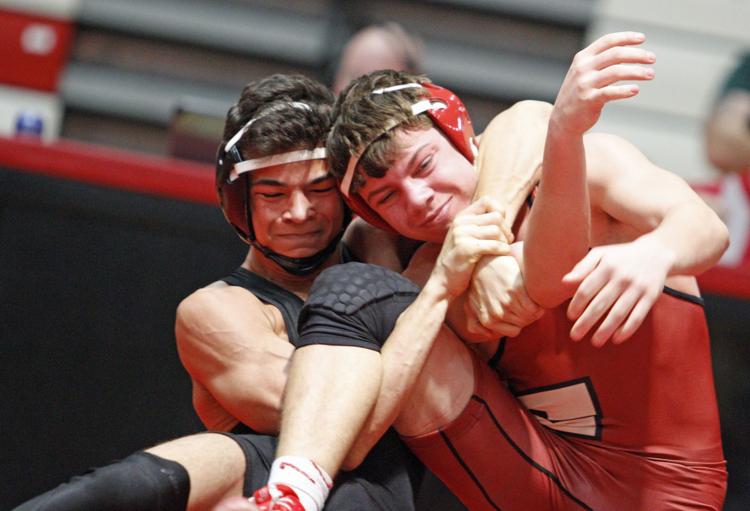 JEFFERSONVILLE — Behind its breadth and depth Jeffersonville won its third straight sectional title Saturday.
The Red Devils had four individual champions and a top-four finisher in all 14 weight classes en route to 270.5 points and the first-place trophy at the Jeffersonville Sectional.
"Every kid got their seed, or higher, but one. A couple of kids really jumped," Jeff coach Danny Struck said. "The kids were real good today about trying to get extra points from pins, technical falls and majors, so I think that was a big difference-maker between us and Tell City."
Tell City was second with 225 points, while Charlestown, which had two individual champions, took third with 164. First-year program Borden finished sixth (70.5) while seventh-place New Washington (59) had a pair of individual champs.
The top four finishers in each weight class earn a spot in next Saturday's Jeffersonville Regional.
The Red Devils' weight-class winners were Adonis Boyd at 126, Cody Matherly at 195, Ethan Rogers at 220 and Matt Munoz at 285.
It was the third title for Boyd, who won all three of his matches in first-period pins, triumphing in 39 seconds, 1:43 and 1:16.
"It felt pretty nice just to get it done with quick," the senior said. "I was so excited, I was just ready to get out there."
Matherly, a senior, won his first two matches by forfeit and his semifinal with an 11-second pin before outlasting Charlestown's Manuel Ordorica 9-5 in the final. Matherly trailed 3-1 entering the third period before rallying for the victory.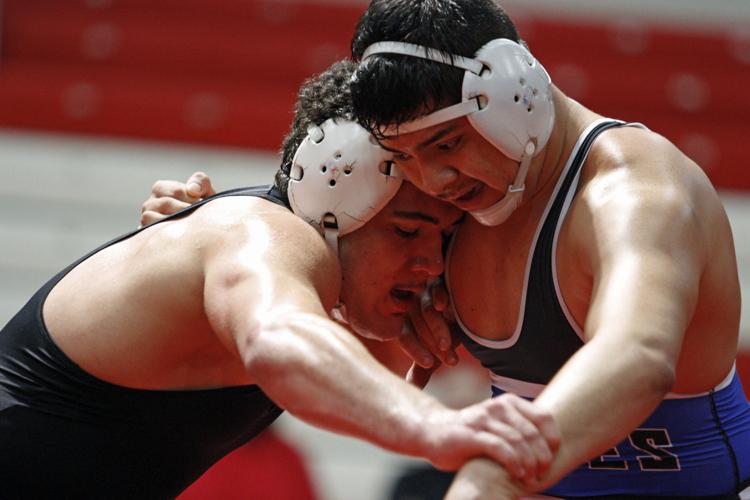 "I just knew I had to stay focused. Most of my shots I worked from an underhook and he's been working whizzers all week, so I knew I had to switch it up a little bit," Matherly said.
It was the first title for Rogers, a senior, who lost in overtime in last year's 220 final. Saturday he won his first match by forfeit, his second in a 31-second pin and his semi by technical fall before pinning Eastern's Gavan Jones in 3:19 in the final.
"I came here and I came ready," Rogers said.
For Munoz it was his second sectional title in three years. The junior won the heavyweight division as a freshman, but finished third last year after being pinned by Tell City's Chance Bolin in the semifinals. Saturday, Munoz won his first two matches by forfeits and his semifinal in a 1:35-pin before avenging last year's loss to Bolin by pinning him in 2:48.
"He just wanted to throw the whole time. Once I got a takedown I just rode him the whole time, picked neutral, he tried to throw again, I defended it and pinned him," said Munoz, who improved to 24-3 on the season.
The Pirates picked up first-place finishes from juniors Colin Knox (120) and Deke Brown (170), both of whom earned their first sectional titles.
Knox won his first match by forfeit and his second by pin (2:45). In the final he pinned Tell City freshman Kelby Glenn in 48 seconds.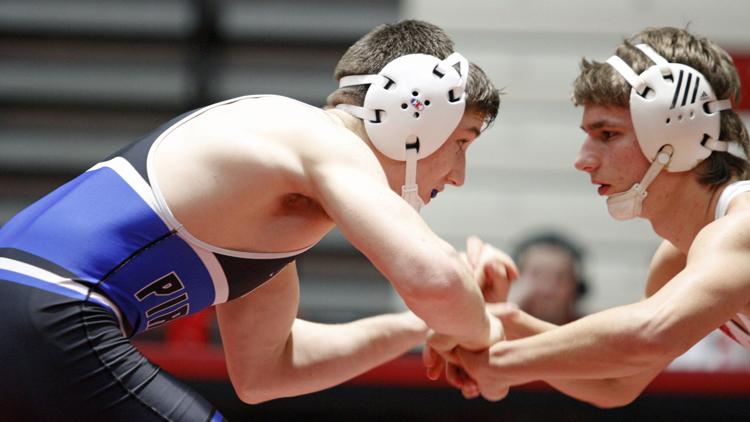 "I was just feeling really loose. I could tell he was nervous, he had warmed up for 45 minutes before the match and I just knew that if I wrestled my match I'd win," said Knox, who improved to 32-1 on the season. "I was really confident that I could win. I had a really good week of practice leading up to here."
Brown, meanwhile, was determined to capture a title after finishing fourth in his weight class (170 last year and 152 his freshman year) the past two sectionals. Saturday he won his first match by pin (2:28) and his second by a 6-4 decision before topping Jeff's Jadehn Debnam 7-1 in the final.
"Last year I kind of choked, I should've placed better. This year I came out ready," Brown said.
The Mustangs' winners were Jason Profitt (138) and Austin Taylor (160). It was the third consecutive title for Profitt, a junior, and the second straight from Taylor.
Profitt won his first match in a 29-second pin and his second by a 12-2 major decision before outlasting Eastern's Marcus Martin 7-6 in a back-and-forth final. The match was deadlocked at 6-all until Profitt pulled off a late escape with a little over 10 seconds left.
"I really didn't know if it was going to go into overtime or not, because the last time I wrestled that man we ended up going into overtime and I really didn't want to do that again," Profitt said. "That kind of gave me the boost I needed to get up and get the one point."
Borden will send four wrestlers to the regional, including third-place finishers Lody Cheatham (145) and Jacob Knollenberg (182).
Ninth-place Providence was paced by senior Chase Aldridge, who was the runner-up at 132 after defaulting the final due to an injury.
Silver Creek, another first-year program, took 10th. The Dragons were led by Gavin Clark, who finished third at 126.